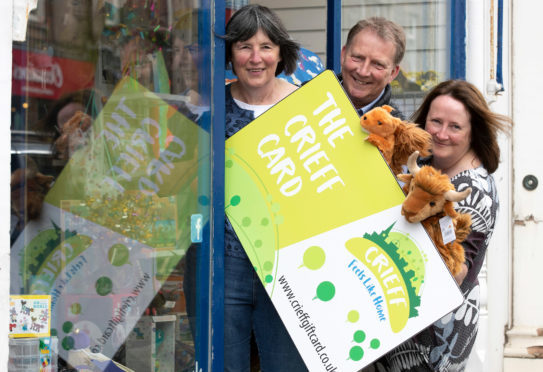 A new gift card has been launched in Crieff with the aim of boosting local businesses and ensuring money stays within the Strathearn town's economy.
The Crieff Card was launched by the Crieff Succeeds Bid team and it allows recipients to use it in a range of local businesses.
The Mastercard-based gift card works in the same way as store gift cards but can be used across the whole town. From mid-May, it will be available to buy from either the Red Squirrel Café, Fun Junction or online at a dedicated website.
Crieff Succeeds Bid team have said there is an "encouraging" number of businesses already registering an interest with many more expected to get involved.
Karen Christie, owner of Fun Junction and Paul Attewell, owner of The Red Squirrel Café, helped launch the Crieff Card with Neil Combe, manager of Crieff Bid.
Ms Christie said: "We are delighted to play such a crucial part in this scheme. Being great believers in promoting the 'shop local' ethos and encouraging independent businesses and the town centre to thrive, we think this initiative will really succeed at doing both."
And Mr Attewell added: "Being one of the first businesses to offer a point-of-sale in the town gives us a great reason for more people to not only visit us, but to also cross-promote the local businesses in Crieff."
Mr Combe said Crieff Bid expect the cards to become a popular birthday present or a simple way to say thank you for a doing someone a "good turn."
"We also think they will help take the pain out of Christmas shopping, with all the signed-up businesses benefitting," he commented.
Stickers will be displayed in the windows of the businesses that accept the card.
Crieff Bid will also promote the card as a gift for people who live elsewhere but have relatives or friends in Crieff. They will be able to go online, order the Crieff Card and have it sent to a local address.