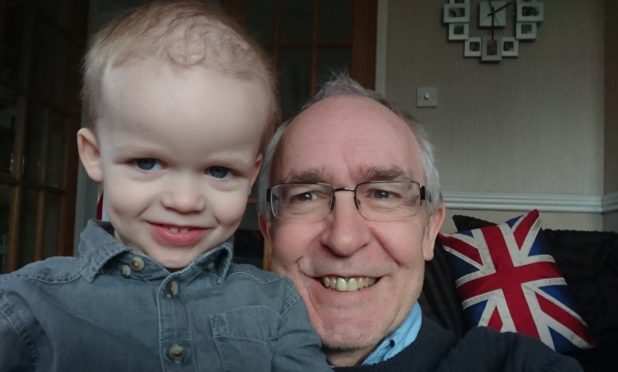 The grandfather of a Kinross boy who was diagnosed with cancer will cycle from Tyneside to Tayside to raise money for charity.
Ezekiel King was diagnosed with cancer earlier this year and after a successful operation in Edinburgh a few weeks ago, the two-year-old will spend the next few months at Ninewells hospital receiving chemotheraphy.
The hours spent travelling have caused parents Katy, a bike mechanic in Kinross, and Stephen, a head chef at Uisge in Murthly, to drop hours at work to care for their child.
Tayside Children with Cancer and Leukaemia (TCCL) stepped in with an unannounced donation of £500 to ease expenses associated with the frequent journeys.
Former BBC local radio presenter and grandfather, Jon Harle, will soon set off on a near 300-mile cycle to raise money for the organisation to thank members for their kindness.
After starting a fundraising page, 'Ezekiel's Journey,' the 60-year-old has almost doubled his target of £2,500.
He will set off from Newcastle on June 4 and is attempting to reach Ninewells in Dundee within five days.
Despite recently retiring and never undertaking such a journey before, Mr Harle is hopeful regular training will pay off to complete the trek on time and smash the £5,000 mark.
"I have already cycled 750 miles this year and try and get out two or three times a week to do 30 to 40 miles each time," he said.
"It's a long way but it's nothing compared with what Ezekiel is going through. We were all shocked with what happened but there isn't much you can do to make him feel better.
"After his mum and dad had to cut down their hours in work, they needed a whole lot of money. Then when TCCL stepped in, I was determined to repay them for the practical and emotional support they've offered.
"After smashing the target of £2,500 in the first few weeks, we are now hoping we can go past £5,000."
Hazel Melrose of TCCL, said: "What they are doing is wonderful. The number of parents, grandparents or others who do things like this on the back of a child is amazing.
"Whenever a child is diagnosed with cancer or leukaemia, they receive a grant of £500 from us to help with their travel or anything else.
"The pressures on families is huge and most of the time someone will have to cut back their hours from work, so the amount of money being raised will be massive for the children that we help."
To donate go to mydonate.bt.com/fundraisers/ezekielsjourney