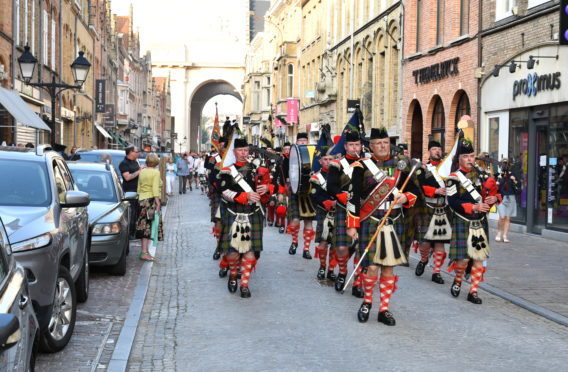 The drum major of the Atholl Highlanders is preparing for a 100 kilometre trek across the battlefields of the First World War.
Alister Walker, 64, of Pitlochry, is training for the Frontline Walk which will take place in France in October.
The drum major has aggressive prostate cancer and was told that one of the best exercises to take was walking.
He said: "I have decided to take part in this campaign to raise funds for the ABF Soldiers Charity. I need to to raise at least £2,500 and I am on my way to reaching this target."
He continued: "I have just returned from the Atholl Highlanders European Tour which took place in France and Belgium starting on May 29 at Ypres and finishing at Dunkirk on June 7.
"I volunteer for Prostate Cancer UK and run the Perth and Kinross Prostate Cancer Support Group.  Awareness is vital and I take every opportunity to raise the awareness profile.
"In the case of the Frontline walk  the key driver is the Soldiers Charity.  The 100 kilometres will be covered in  three days so it is very important to be fit to cover this distance and this is the link to walking and exercise."
Mr Walker, who owns JRS photo Hardware Ltd  in Scott Street, Perth, said he was diagnosed with aggressive prostate cancer in 2006 and was recommended that the best exercise to take was walking.
"I walk every day to prepare for and build-up my strength to to complete the Frontline Walk," he added.
"I joined the Atholl Highlanders in 1971 so I have 47 years service.  I started as a snare drummer for 30 years then went on the big drum as bass drummer and have been the drum major since 2012.
"I have taken the decision to do something memorable while I can still do so."
The Frontline Walk is a 100km hike across the Western Front of First World War battlefields.
For more information visit www.drummajorbo.com