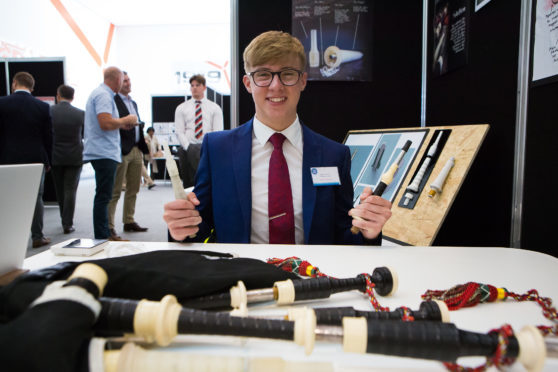 A Perthshire student may have found the answer to preventing a rare lung disease which has long blighted bagpipers.
Strathallan pupil Robbie MacIsaac won the top prize in a UK-wide design competition for his innovative flux blowpipe, which stops moisture getting into the pipes.
A keen piper himself, the 17-year-old hopes his invention will stop moisture from damaging instruments, by causing the wood to crack and affecting the sound quality.
And it may also mean the end of bagpipe lung, a rare but potentially fatal disease caused by a build-up of mould inside wind instruments.
Robbie, who has been chosen as head boy when he starts his final year at Strathallan after the summer, hopes to research the illness now that his pipe has been patented.
He said: "I haven't had any medical advice about it but it will reduce mould inside the instrument so if that causes bagpiper's lung it might help.
"That is what I'm going to research next while I finalise the design of the product.
"I have been working on the idea for about three or four years. One of the biggest problems with bagpipes and wood instruments is when moisture gets in it cracks the wood and makes it sound pretty brutal. It can be expensive to fix so I started thinking about ways to stop the moisture getting there in the first place."
Robbie, who lives in Falkirk, was the only Scottish pupil to make it to the final of the technology, design and innovation challenge, taking first prize at the competition run by the Manufacturing Technologies Association last week.
The initial blowpipe was made with a 3D printer, with the help of Angus 3D solutions, and Robbie is now looking for investors so he can manufacture his product and a start a business.
He said: "I was absolutely delighted to win the final of the challenge.
"To be up against such strong competition from schools across the UK was a fantastic experience, and to take the title is just incredible.
"I worked really hard in the design of the blowpipe, which came about from a natural desire to solve a problem I was dealing with on a daily basis.
"Angus 3D Solutions have been brilliant. Now I'm hoping to attract some investors so I can get my business up and running."
Strathallan, a private school for boarding and day pupils, was given £2,000 to spend on technology supplies, thanks to Robbie's victory.
Craig Wiles, head of the school's design and technology department, said: "I'm totally delighted for Robbie. He's a hard-working pupil, and deserves every success.
"The product he has created is just fantastic. It has brilliant commercial viability.
"We can't wait to see how his product will do when it is manufactured. Robbie has a bright future ahead of him, and we look forward to creating more exciting works in the year ahead."
Bagpipe lung is thought to be caused by a build-up of mould and fungi inside wind instruments, which can inflame lungs.
Left unchecked, it can cause progressive and irreversible scarring.
In 2016, a 61-year-old man who played the bagpipes daily died of the disease. He had been ill for a number of years but the condition was not diagnosed until his instrument was examined weeks before his death.
Doctors have since advised musicians to have their instruments cleaned regularly to prevent a build-up of yeast and mould, as well as to consider if any coughs or breathing problems may be related to music practice.