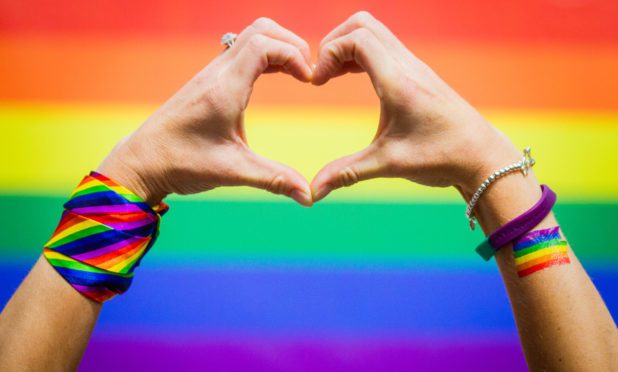 The backlash against Rev Scott Burton's Perthshire Pride speech was as depressing as it was predictable.
The Church of Scotland minister opened the region's first LGBT celebration last weekend with a speech which apologised for the Kirk's historical treatment of the gay community.
The call for equality was warmly welcomed by Pride supporters. It seemed like an historic moment, like the church was finally breaking down age-old barriers and opening a door.
And inevitably, there were other church leaders trying to slam that door shut.
Rev David Robertson, minister of St Peter's Free Church in Dundee, said in a blog that Rev Burton should instead be "apologising to God – for the horrendous sin or distorting and perverting His gracious word."
He wrote: "What if the press and politicians have got it wrong? What would that mean?
"It would mean the church have turned away from the teaching of Jesus – a disaster and an end to the church."
Of course, Rev Robertson is entitled to his views, but from where I'm standing, it looks like his remarks are doing more damage to the church than Rev Burton's.
At a time when just 7.2% of Scotland's population go to church – down from 17% in 1984 – it is clear that Christianity needs to start thinking about evolving and visibly moving away from outdated and divisive views.
Why does there seem to be such a hang-up about homosexuality? The Bible teaches some fairly abhorrent views on slavery, such as it's apparently fine to beat your slave with a rod, as long as he or she doesn't die right away.
We've all managed to move on from them, so why are LGBT rights still such a stumbling block?
Is it really acceptable in the 21st Century, to continue persecuting gay people because a (tiny part of a) book written 2,000 years ago says that we can?
These days, it's easy to be against organised religion. Mainly because of wars and atrocities committed in the names of the Deity, but also because of the whole getting-up-early-on-a-Sunday-morning thing.
But religion is vitally important, particularly in times when people and families are being torn apart by politics and technology. Religion is what brought humankind together in the first place. Early societies that didn't have religion couldn't work together and quickly died out.
There is every chance that religion can, once again, be a powerful unifier.
But we need to keep that door open.