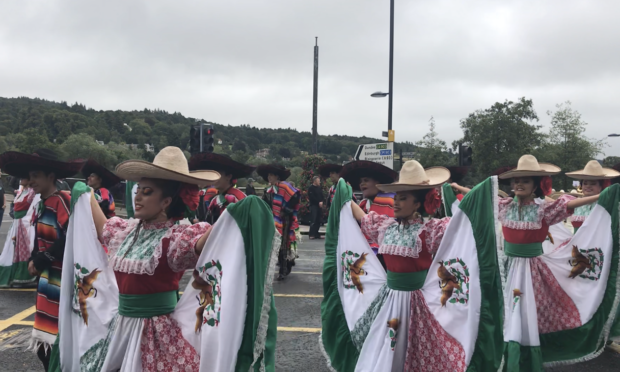 Perth city centre erupted in a riot of music and colour on Sunday as hundreds lined the streets to welcome performers from across the globe.
The annual City of Perth Salute, now in its third year, involved a noisy and vibrant procession of military bands and dancers.
The parade, which set off from South Inch, featured bands from as far afield as China, Mexico and Oman.
The spectacular Top Secret Drum Corps, the Swiss group that went down a storm at the Edinburgh Tattoo, also took part.
Local groups included Perthshire Brass, the Black Watch ACF Band and Perth and District Pipe Band.
Families lined the length of Tay Street to watch the spectacle, before joining the performers for a special Military Tattoo-style show at the North Inch park.
The pop-up arena was equipped with seating for up to 5,000 people. The stand had been used the day before, for a historic rugby match between the Glasgow Warriors and the English Premiership side Harlequins.
The event, which ended in victory for the Warriors, was the first time professional rugby had been played in Perth for more than 20 years.
The first City of Perth Salute, held in 2016, marked the 750th anniversary of the Treaty of Perth.
The treaty was the culmination of discussions between Norway and Scotland over a two-year period and saw Norway cede the Hebrides and the Isle of Man to the Scottish Crown.
Sealed in Blackfriars Kirk in Perth on July 2 1266, the treaty also confirmed Norwegian sovereignty over the islands of Orkney and Shetland at that time.
It ended the conflict between King Alexander III and his Norwegian counterpart Magnus VI.