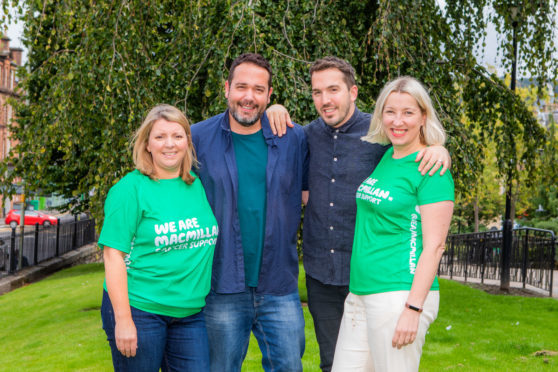 A historic Perthshire walkway will be swarming with thousands of hikers this weekend for one of Scotland's largest charity fundraisers.
The mammoth Rob Roy Way, which joins Scotland's west coast to Pitlochry, will host Macmillan Cancer Support's mighty hike event on Saturday.
Around 2,000 people from across the country will join forces to walk a marathon 26 miles of the enormous 94-mile stretch, to raise money for Macmillan.
Starting in Callander and finishing in Killin, the event is Macmillan's largest activity fundraiser in Scotland.
Around £1 million is expected to be raised for the cancer charity.
Perth resident Nicola Martin and a group of three local friends will be part of the huge band of campaigners taking part in the trek.
Having all been touched by the work of Macmillan, the group is hoping to raise £5,000 towards the £1,000,000 sum.
Nicola, who works at Small City, Big Personality Perth, said she has been moved by the local support.
She said: "I wanted to do something for Macmillan that puts me out my comfort zone.
"Myself and three friends, Kirstin Smith, Rae Peacock and Craig Duncan are all taking part. My sister was diagnosed with secondary breast cancer in the bone two-years-ago.
"Kirstin's dad died of cancer 30-years-ago and Craig's brother died of cancer as well last year. We have all been touched by cancer and by Macmillan in some way so it's a way we can all give back.
"I haven't trained for a big event like this before. By training it has allowed me to see areas of Perthshire I have never seen before.
"People have been so generous with messages of support and with the money raised.
"I personally wanted to raise £1,000 but I am now just under £2,000.
"We also have local food shop Provender Brown providing us with a hamper for the hike to keep us going.
"It doesn't matter how much people give and it has really given us a boost."
Perth gas engineer Craig Hurrel is also taking part with a group of friends and said the event is all about giving back.
He said: "I am not a hiker but I am sure many people aren't and it's for a really great cause.
"We are trying to raise £1,000 between us and we are doing well towards that.
"For us it's all about doing a bit of good and giving back to charity."
To donate to Nicola's page go to https://www.justgiving.com/fundraising/nicola-martin39 and to donate to Craig go to https://www.justgiving.com/fundraising/heat-it.