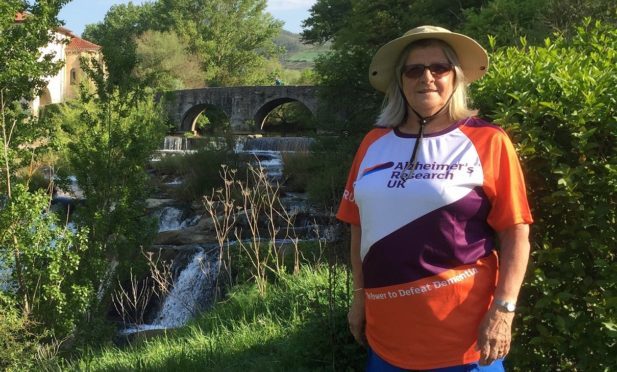 A Perthshire pensioner living with dementia has defied her diagnosis to walk a 780km medieval pilgrimage road across Europe and raise almost £3000 to help others with the same condition.
Olive Munro, 67, who was diagnosed with vascular dementia around three years ago, walked the Camino de Santiago, or Way of St James, route through France and northern Spain with her husband, Ronnie.
She carried a stone from her home in Ardtalnaig, on the south side of Loch Tay, and placed it at the Cruz de Ferro (Iron Cross) in keeping with a tradition among those who walk the route.
Mrs Munro said: "When I found out I had dementia I was upset and it took me about a month to come to terms with it. But my attitude is to get on with it and live life to the full, so I've decided to do what I can to support dementia research while I'm still able to.
"I was looking for ideas for something we could do to raise money. I watched the film The Way, starring Martin Sheen, where they trek the Camino de Santiago route, and I thought 'I can walk, let's go for that'. The highlight was at the Cruz de Ferro where we joined in the tradition of leaving stones at the cross."
The couple took two months to complete the 780km route – a month quicker than planned. They raised £2,700 for Alzheimer's Research UK.
"There's such a friendly atmosphere on the route. I was going up a steep hill when I still wasn't 100 per cent after being ill and I was struggling. Lots of people stopped to ask if I was okay and if I needed help," she said.
"We wore Alzheimer's Research UK t-shirts every day and people were always coming up to chat to us and ask us about the charity."
Kyle Lockhart, the charity's fundraising officer for Scotland, said: "We are in awe of Olive for taking on this trek and raising so much money for pioneering dementia research.
"Her story is a powerful challenge to the common misconception that dementia only affects older people. She's proof that while a dementia diagnosis is devastating, people with dementia can lead fulfilling lives.
"The vital funds raised by Olive and Ronnie will power world-class dementia research projects to help bring an end to the fear, harm and heartbreak of dementia."
The Camino de Santiago is a pilgrimage to the tomb of St James (Santiago) in the city of Santiago de Compostela in Galicia, north-west Spain. As a Christian pilgrimage, the Camino de Santiago dates from the ninth century.