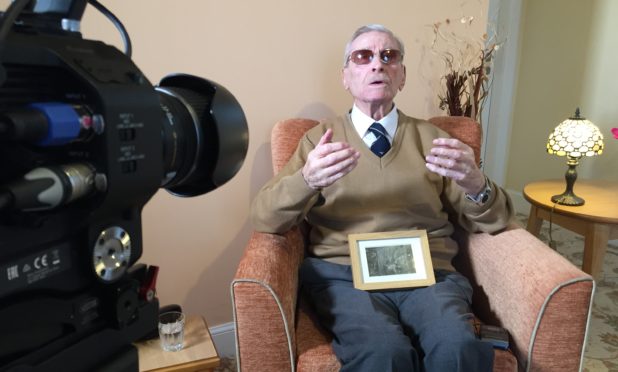 A Perthshire pensioner who is one of the last surviving Lancaster fighter pilots, is preparing for an emotional trip overseas to meet the families who helped keep him safe after his plane was gunned down.
Ernie Holmes, 97, was on the way home from a night-time bombing raid in Germany when his aircraft was attacked by the enemy.
The Lancaster crashed over the Netherlands, killing five members of the eight-man crew.
Ernie parachuted to safety and was taken in by farmer Fons van der Heijden, a member of the Dutch resistance.
Later this month, he will fly out to the Netherlands to take part in a ceremony to commemorate the dramatic events of May 1944.
He hopes to meet some of the families who protected him as he tried to get back to England.
Ernie, who stays at Kincarrathie House, was caught and imprisoned by the Germans as he tried to reach home. Just days before the region was liberated, Fons – who had harboured many service men – was taken out of church by Nazis and shot.
Ernie said: "It is going to be a very emotional experience for me.
"These were good people who risked their lives, risked everything, to keep me safe."
He said: "I remember one of the families had a little girl and I'm hoping to meet her again when I go over to Holland.
"I still have flashbacks about that time and I hope that being part of this memorial event will help those flashbacks subside."
Ernie, who continued flying after he was liberated at the end of the war, has been interviewed for this weekend's BBC Songs of Praise programme.
Presenter Aled Jones asked him about his memories of the crash.
"We dropped our load and we had the target burning," Ernie told him. "And then we started our way back home by a different route, and it was on the way back, all we heard was the roar of our engines.
"It was dark then suddenly, there's a vibration and a sound and then a fire broke out in the starboard wing."
He said: "I realised I'd lost control of the aircraft.
"Meantime, number three engine was tearing itself to bits, exploding, throwing bits around. I called out to my crew: bail out, bail out.
"But before this happened there was… an explosion and I woke up. The cabin had gone, I was hanging off the nose of the aircraft but still strapped to my seat."
He managed to open his parachute and land in a woodland.
"A girl came by riding a bicycle," he said. "She said 'Gude Morgen' to me and I knew straight away I was in Holland, not Germany, not Belgium. She pointed to the corn, she wanted me to hide."
Paying tribute to the farmer who saved him, he said: "There is no greater love, than he who will give himself for another."
The Songs of Praise interview will be broadcast on BBC One on Sunday at 3.10pm and will be available on iPlayer afterwards.