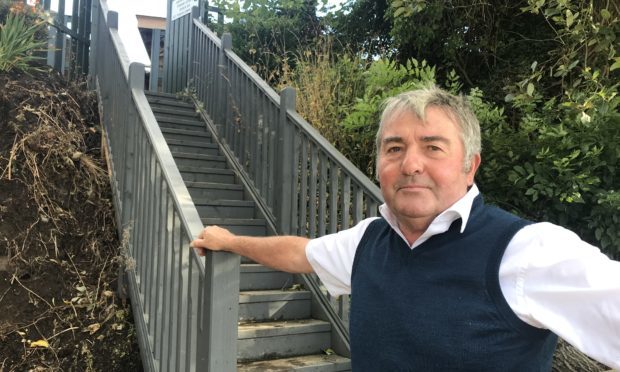 A businessman has won a prolonged planning battle to keep a riverside beauty spot near his Almondbank home.
Mike Paton transformed an site on the banks of the River Almond after it became an overgrown hang-out for drug users.
He put up fencing, installed bird boxes and seating, and fitted a stairway so locals can safely walk down to the river's edge.
The project fell foul of planning officers, who told the 69-year-old that even though he owned the land, he would need retrospective planning permission for the garden.
In February, Perth and Kinross Council rejected the application meaning Mr Paton would have had to dismantle his handiwork.
Following an appeal to the authority's review board, the planners' decision has now been overturned.
Mr Paton, who is a director at bodywork firm Elder and Paton, said: "When I started this project two years ago, I had no idea this was going to cause so much trouble.
"The site hadn't been touched for about 20 years when I bought it. It was really overgrown and unsightly, and we found discarded needles there.
"People seem to love what we've done. It is well used by dog walkers and others, and we've got a security gate that we keep closed when the water is high."
He said: "This is a big relief for us. The whole process has been very stressful at times."
Mr Paton has thanked his friends and neighbours for backing the project.
He said he was also grateful for backing from community councillor Kenneth Simpson, and cross-party councillors Willie Wilson, Grant Laing, Lewis Simpson and Bob Brawn.
He said: "My planning consultant Mark Myles has been instrumental in representing me in my planning appeal and his knowledge and professional presentation of my case has made common sense prevail.
"The area is one of the few access points to the riverside. It was served previously by an old set of stone steps and it was a bit of a scramble to get down.
"In fairness, I don't see how, in policy terms, the planning service could have come up with a different response."
Willie Wilson told the review board planning consent could be granted, with conditions in place.
He said: "There is a flood risk issue here and the structures could be swept away at some point in the future.
"There is a serious responsibility on the owner of the land, having encouraged access, to mitigate the risks."
Planners had originally raised concerns the site was contaminated. The area was once home to the Huntingtower bleachworks which was founded in 1977 and became one of the largest facilities of its kind in Scotland.