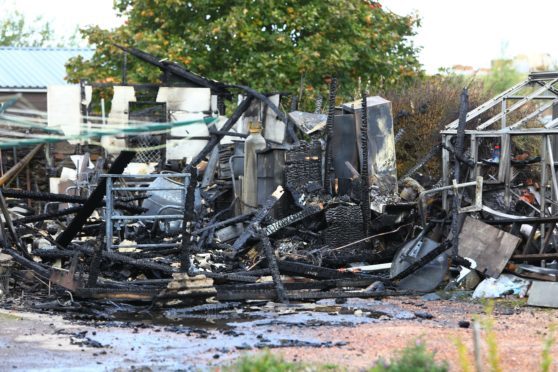 Residents of a Perthshire town felt their homes shake as a fire exploded in a domestic garage on Sunday morning.
Those living in the Feus area of Auchterarder reported hearing a loud bang and feeling a tremor as the garden garage, which contained a number of gas cylinders, went up in flames just before 3am.
Nobody was injured but eight houses were evacuated as a precautionary measure and the road, which leads to the busy High Street, was closed for seven hours.
Evacuees were sent to the police station but some were too frail to walk up the street to get there.
Mary Fordham, who lives in Feus with her husband but was far enough away from the fire not to be evacuated, took in four neighbours.
She said: "We had our grandchildren staying with us and we felt a shake and heard a bang.
"We didn't know what was going on until we saw the blue lights. Within about 15 minutes we had our neighbours at the door. They said people were being sent up to the police station but they were too frail to walk up there so I brought them in.
"It has been a long, long night but nobody was hurt which is the important thing."
The owner of the garage confirmed he had been allowed back into his home but declined to comment further.
Three fire crews from Auchterarder, Crieff and Perth were on the scene for almost five hours to make sure the cylinders had fully cooled after the blaze was extinguished.
Another Feus resident, who did not want to be named, said he heard the bang while looking after his ill toddler.
"I just heard a loud bang, I had no idea what it was," he said.
"I was already awake because our two-year-old isn't well but my fiancée went rushing to the window when she heard it."
The fire did not spread to any surrounding buildings and residents were allowed home by late morning, when the road was reopened.
A Scottish Fire and Rescue Service spokeswoman said: "Three fire appliances were deployed to the scene where a fire had taken hold in a single-storey domestic garage containing a number of gas cylinders.
"Residents from eight nearby homes were evacuated as a precautionary measure.
"There were no casualties and crews extinguished the fire and left the scene at 8.22am."
Perth and Kinross Council opened Auchterarder Community Campus on Sunday morning, for those unable to access their homes.
A spokeswoman said: "Perth and Kinross Council opened a rest centre to support residents evacuated from their homes following a garage fire in the Feus area of the town.
"Around eight residents made use of the centre before the they were able to return home late morning."