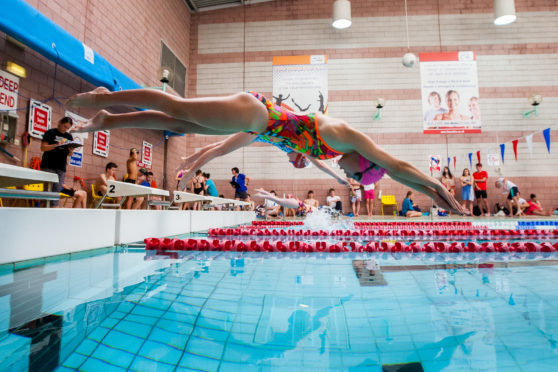 It's your lucky day, I'm going to bake you a cake.
You won't believe it when you see it. It will be three tiers tall, with layers of fresh fruit, salted caramel and marshmallows.
On the top will be a rotating statue of cake king Paul Hollywood, hands on hips, shouting at the sky and ejecting a fountain of chocolate, blueberries and gumdrops.
Just wait until you see this cake, it will be a real showstopper.
And here it is: Not quite what I said it was going to be, but still bound to be delicious. I couldn't get a lot of the ingredients and Paul Hollywood's lawyers vetoed the statue idea.
But, hey, it was a lot cheaper and it looks like a caterpillar and that's a lot of fun, right?
Disappointed? Now, you know how many people in Blairgowrie feel.
Two years ago, they were promised a new state-of-the-art recreation centre, worth nearly £18 million.
But earlier this year the budget was cut by £3 million to help pay for the £50 million redevelopment of Perth High School.
The watered-down plans drawn up by Perth and Kinross Council see the scale of the building reduced from 43,000 sq ft to 34,500 sq ft, with significant cuts to the planned pool and dance studio. A cafe and soft play area have also been scrapped.
The community council is calling for the local authority to rethink its strategy.
If this project went ahead as planned, Blairgowrie would get a very nice sports centre and a vast improvement on the one it already has. After all, £15 million is still a very welcome investment.
But this is a town that is growing at an alarming rate, with hundreds of new homes expected over the next two decades, and it deserves something extra special.
To build a real head-turner of a facility would make a huge difference to the town's future, helping attract new families, while making life better for those living and learning there.
For example, increasing to a six-lane pool would open the door to national competitive galas, help attract swimmers from across Scotland and deliver a major boost to the local economy.
There are still options available for the council to deliver what was originally pledged.
Dipping into reserves — or re-reviewing the budget — could help transform this from a decent, competent  leisure complex, with facilities similar to many modern schools, into an exciting game-changer that could make a real splash for generations to come.