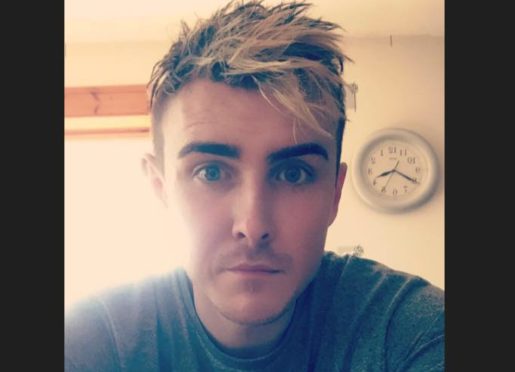 A banker has been cleared of embezzling more than £820,000 from rich customers at his branch after a court was told he was "duped" by "professional fraudsters".
Samuel Mackintosh transferred vast sums of cash out of the accounts of a series of wealthy individuals into other accounts over the course of four months last year at the Bank of Scotland branch in High Street, Auchterarder, Perthshire.
One woman had £475,000 transferred out of her accounts by Mackintosh over the course of six transactions in three days in July last year.
Another man had £300,000 transferred out of an account on August 4 last year.
Mackintosh admitted carrying out the transactions, which took place when people pretending to be the account holders turned up in the branch and asked for money to be moved by the 27-year-old, then employed as a personal banking adviser.
However, he denied being part of the gang – with his lawyer telling the court there was "no evidence" that he had benefited in any way from the scam.
The court heard the people he transferred the money to have never been traced.
Fiscal depute Saima Rasheed told the jury Mackintosh had used a specific computer system within the bank to bypass the requirement for management authorisation or suspicious activity reports when transferring the money.
She said: "He was the only employee in this branch to carry out transactions for fraudsters.
"That's despite other employees being in the branch on all these dates. His position is that he was targeted by these people.
"The Crown's position is that he was dishonest."
The three-day trial at Dundee Sheriff Court heard evidence about a holiday Mackintosh took to Ibiza in the days before his arrest that he had paid for in cash.
It was suggested the money used to fund that trip may have been his proceeds from the massive scam.
But Mackintosh's mother later told the court her son had been giving her cash to save for months in the lead up to the holiday.
Defence lawyer David Holmes said his client had been targeted by "professionals" carrying out an "act" to convince him to move money on their behalf.
Addressing the jury, he said: "What did he gain out of it?
"What we don't have is any connection between Samuel Mackintosh and these people.
"We have checked his telephone, his computer, searched his house and there is nothing.
"The one thing we are asked to accept as proof that he was involved is that he spent money on a holiday in cash in July. It is ludicrous.
"You may have heard the phrase clutching at straws. We know he approved these transactions – it makes him a bad banker.
"If I make a mistake at work I'm not going to be prosecuted for being rubbish unless there's dishonesty involved.
"The suggestion is that he has been willing to sign away his career for we know not what."
Mackintosh, 27, of Evelyn Terrace, Perth, denied a total of six charges of embezzlement on indictment.
They are alleged to have been committed between March 24 and August 4 last year.
A jury of 11 women and four men took less than two hours to find Mackintosh not guilty of five of the charges. A sixth was found not proven.