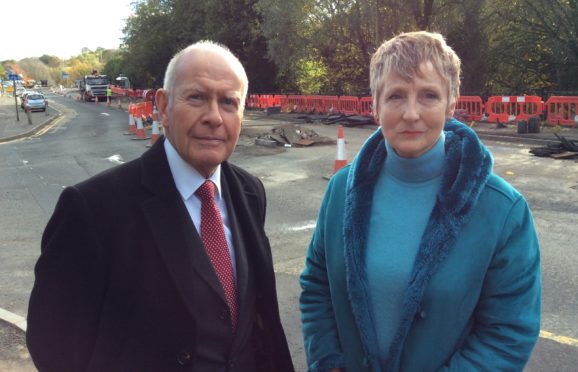 Concerns have been raised that work to install traffic lights on a busy Perth road is damaging local business.
Lights are being fitted on Glasgow Road, a busy route linking Perth city centre with the park and ride at Broxden roundabout.
A contractor for Persimmon Homes is working at the roundabout outside the Cherrybank Guest House, connecting Glasgow Road with Necessity Brae.
Lights are also being installed on Oakbank Place and Necessity Place, with housing estates and firms such as Aviva in close proximity.
Liberal Democrat councillor Willie Wilson said: "Clearly the work is highly disruptive to traffic in Glasgow Road, Cherrybank, Cleeve, and staff at Aviva.
"Other businesses nearby have been affected, as people are avoiding the area if they can.
"I am asking our planning and roads services to monitor the situation carefully and ensure that the programme is kept up to date."
Former Perth South councillor candidate Liz Barrett said: "The work started very slowly nearly three weeks ago.
"We asked Persimmon to confirm that they will be completed on schedule.  We have had no response.
"We've also asked about the expected date for completion for tree planting and landscaping, so that these can get established before the worst of the winter weather."
Despite fears that the work could run past schedule, Persimmon Homes pledged the lights will be completed on time by December 2.
Iain Innes, managing director of Persimmon Homes North Scotland, said: "We understand that these works are causing some disruption and apologise for the inconvenience.  We are doing everything we can to minimise the closure period.
"Completion of the work being carried out is on course for completion by December 2 as planned and agreed with Perth and Kinross Council under the approved road closure.
"Our contractor has met with representatives from the roads department on several occasions throughout the duration of the project to keep them abreast of the status of the development.
"Work carried out so far includes the completion of ducting (pipe work) to the Perth-bound lane and ducting on the Broxden-bound lane is well advanced.
"In addition, Siemens are onsite carrying out the work required for the signal installation."