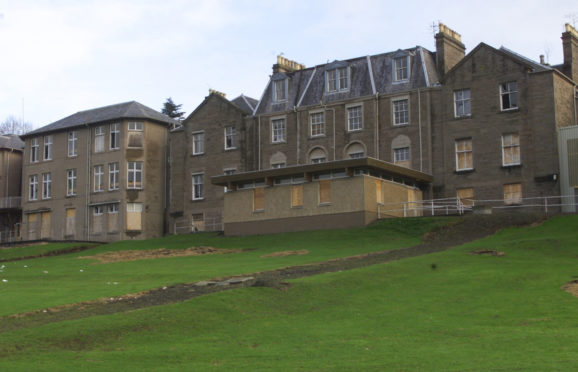 A planned housing development will lead to more congestion on one of Perth's main arterial roads, a community council has claimed.
Bridgend, Gannochy and Kinnoull Community Council has said the plan by Melford Developments to build 75 homes on the former site of Hillside Hospital will cause "further" congestion and pollution in the area.
Dave Beattie, of Bridgend, Gannochy and Kinnoull Community Council, stressed the group does not object "in principle" to the housing development plan, but revealed it has concerns over its impact on increasing congestion on the nearby Dundee Road.
"Our prime concern is that the road infrastructure has not been expanded in line with the growth in dwellings," he said.
"During peak periods our roads are close to gridlock. We have seen neither investment nor ideas to expand our road network.
"More development will cause further, unacceptable congestion and pollution."
Rick Finc, of planning and development consultants Rick Finc Associates, speaking on behalf of Melford Developments, said they have yet to have discussions with the community council so would not respond to their comments at this stage.
---
---
He said: "Transport is one of many planning and environmental issues that we will need to consider. Once we have a firm proposal that can go forward to a planning application, a proper transport assessment will be produced to assess these matters in detail."
A Perth and Kinross Council spokesperson said the proposal of application (PAN) notice submitted by Melford Developments will be considered by members of the planning and development management committee on Wednesday.
Hillside Hospital closed in 1997 and was demolished in 2007. It was used to treat patients suffering from Phthisis (pulmonary tuberculosis).
A previous plan lodged by Lorimer Homes in 2006 to build five blocks of flats, a nursing home and two blocks of care units fell by the wayside. But Edinburgh-based Melford Developments are hopeful their plan to build a residential development on the site located near Dundee Road is given the green light by Perth and Kinross Council.
The proposal of application submitted by Melford Developments includes provision to build affordable housing.
Local residents will have the opportunity to view the designs for the planned development at a public consultation event on Thursday at Kinnoull Parish Church, running from 2 until 7pm.