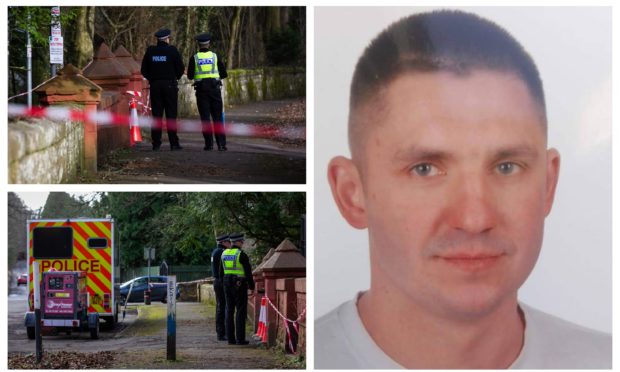 Investigators have been unable to establish how a Perthshire man, found dead inside a burning car, was murdered.
A post-mortem examination has failed to determine a cause of death for car mechanic Rafal Lyko.
A major murder probe, involving police forces throughout the country, was launched after the 36-year-old was discovered in a stolen Mercedes at a car park in Lanarkshire last month.
Now Mr Lyko's death certificate has revealed that his post-mortem was inconclusive and further inquiries may be needed to pinpoint how he died. The cause of death is listed as "unascertained (pending investigations)."
Pathologists are also unable to say when he died.
Police are still trying to trace the Polish national's final moments.
He is known to have visited Auchterarder, where his parents Antoni and Jolanta stay, shortly before his death.
It is understood he also visited Crieff, before travelling to South Lanarkshire.
Mr Lyko was found inside the burning car at Stoneymeadow Road, Blantyre, on the evening of Monday, February 11.
Emergency services were called to the area following reports of an explosion.
The car is believed to have been in East Kilbride and Cambuslang before it was found alight.
Residents at Blantyre raised the alarm, reporting a loud bang in the area where the car was found.
Police Scotland's major investigation team issued a public appeal for any information.
Mr Lyko previously spent time at Perth Prison over his links to another Polish man convicted in connection with a hit on a Scottish businessman.
Mr Lyko was jailed for four months in 2012 for smuggling a spy phone into prison for hitman's fixer Deyan Nikolov to use while he was on trial for murder.
Nikolov had the tiny smartphone –which looked like an ordinary digital watch – brought to him while he was remanded at maximum security HMP Perth.
Nikolov was subsequently jailed for a minimum of 18 years for the part he played in the fatal shooting of businessman Mohammed Nadeem Siddique in Glenrothes in October 2010.
Neighbours at Mr Lyko's family home in Auchtarder said he had moved to Pruszkow in Poland after his release from prison.