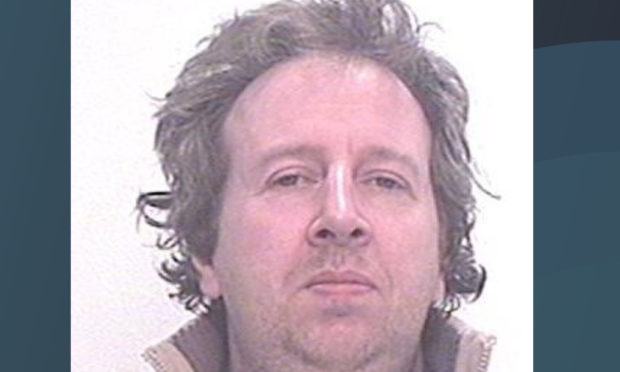 A sex predator who molested a young girl while her mother was in hospital has been jailed for 10 years.
Mitchell Pirnie, 52, abused the youngster at a house in the Pitlochry area after she was taken in by his then-wife while her mother went into hospital.
He was reported to the police in 1996 after the girl's mother discovered what had happened but remained free to continue to abuse youngsters.
Pirnie, formerly of Airlie Street, Alyth, committed sex crimes against three girls and two boys between 1996 and 2004, including raping one of the female victims.
He had denied a string of charges during a trial at the High Court in Edinburgh but was found guilty of a total of nine offences. Two further charges were found not proven.
A judge told Pirnie: "You have been convicted by the jury of nine charges involving a course of serious criminal conduct in respect of the sexual abuse of five children."
Lady Scott said he had seized any opportunity to abuse victims but with three of the children had also groomed and controlled them for his own sexual gratification.
The judge said Pirnie's victims were robbed of their childhoods and corrupted by his criminal behaviour.
Lady Scott told him: "I have decided that having regard to the seriousness and nature of this course of conduct you present a serious risk of harm to children."
The judge ordered that he should be kept under supervision for a further three year period in addition to a 10-year custodial term. Pirnie was told that he will be on the sex offenders' register indefinitely.
Pirnie began his catalogue of abuse with a 10-year-old boy in February 1996 and carried out escalating sex acts on the youngster over a period of years at an address in the Pitlochry area and at rural roads in Perthshire.
He then went on to abuse, indecently assault and rape a girl from the age of 13 over a three year period in similar locations beginning in November 1996.
Pirnie, who formerly ran an arts shop and worked in forestry, admitted he had a relationship with the girl but claimed it was after she was 16 years old and that sex occurred with her "maybe three or four times". He denied that he carried out further sex acts on the victim.
He also carried out an indecency offences against another 10-year-old boy.
Pirnie fondled and molested the girl whose mother was in hospital in December 1996 and went on to abuse another pre-teen girl in Perth and at a village near Pitlochry in 2004.
One 20-year-old woman told his trial that as a child he appeared "scary" to her. She said the first time she remembered seeing him he had blood on his knuckles.
One victim said at the time that Pirnie told her he was trying to find a place that was tickly.
She said: "That's what he told me at the time. At the time I was questioning what he was doing. I knew I wasn't being tickled."
The woman whose daughter was molested by Pirnie said that her daughter was "always a happy and laughing girl" but when her husband and children came to visit her at hospital she was "white" and was not talking.
She said: "I knew straight away something was wrong."
She contacted the police. She said her daughter was very tearful and kept saying sorry.
Defence solicitor advocate Chris Fyffe said that Pirnie continued to deny his guilt and responsibility for the offences.
He said: "He accepts, notwithstanding the discussion in the criminal justice social enquiry report about a community payback order, that custody is the inevitable consequence of conviction for these very serious offences."
Mr Fyffe said that Pirnie has been unemployed for several years because of ill-health but previously held down different jobs.
Detective Constable Julia Key of the Perth Family Protection Unit said: "The bravery of Pirnie's victims in coming forward and disclosing their experiences at the hands of Pirnie has to be commended, and has been absolutely vital in securing his conviction.
"Most of these victims were children when these offences were committed against them, and I hope today's sentencing has brought them some level of comfort.
"We will not tolerate sexual violence or abuse of any form, and I would urge anyone who has experienced this to contact Police Scotland.
"You will be fully supported by us, and crimes of this nature will be fully and thoroughly investigated."