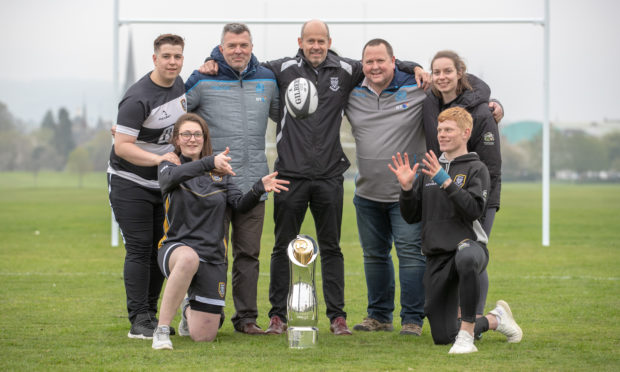 Perthshire Rugby Club are gearing up for a bumper weekend of action as junior teams from across Scotland take to the North Inch for the inaugural Caledonia Cup finals.
The event,  to be held on Sunday, will see 30 teams from across Scotland compete on five pitches for three trophies.
30 teams, 18 boys' and 12 girls', have qualified for Sunday's cup, shield and bowl finals after more than 170 matches in the early rounds.
The matches, featuring teams from as far as Caithness, Stornoway and Orkney, will be watched by regional officers and managers from Scottish Rugby as under-15s, under-16s and under-18s teams will be looking to catch the crowd's eyes.
Organised by Scottish Rugby, Perthshire RFC and Perth and Kinross Council, the rugby club are looking forward to an action packed day.
Eamon O'Brien, head of the club's midi section, said: "It's partly to do with the facilities. Here, we've got enough space for five games going on at once and we have changing rooms for both the boys' and girls' teams.
"The Caledonia region comes from as far south as Grangemouth and Falkirk all the way up to Shetland. Because we can be reached by 90% of Scotland in 90 minutes, it's the perfect place.
"Scottish Rugby considered us on the basis of the events we've held in the past too. The Glasgow Warriors match in the summer were a great example of that.
"We've got high hopes for the two teams we have in the finals. Our under-15s boys are going for the Caledonia Cup and our under-16 boys are going for the Caledonia Shield. Some of our girls are in the Tayside and Fife team too.
"We're looking at a crowd of around 2,000 and our under-14s will be catering for all the players and spectators. The money raised will be going towards trying to arrange a tour for them next summer.
"The Pro14 trophy will be on show and the Calcutta Cup will be there in the afternoon too. The pitches are ready and we're excited for it."
2018 is a busy year for Perthshire RFC, who are celebrating their 15oth anniversary, and the club have organised a string of events to mark the milestone.
Eamon added: "This isn't part of our 150th celebration but it will certainly add to everything that's going on."
In May, the club are also hosting a 150 Years Game where Perthshire will be captained by Scotland 7s international James Fleming, a Rugby 7s and annual Beer Festival and a Mini Festival of Rugby where 750 young players will compete at the North Inch.