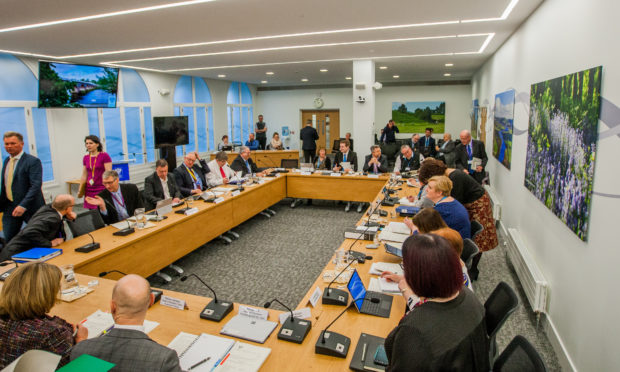 The Catholic Church is demanding urgent talks with Perth and Kinross Council after it controversially withdrew voting rights from religious representatives on education committees.
The local authority became the first in Scotland to block church reps from voting on school issues when it made the move last week.
It followed an earlier decision to close Blairingone Primary School, which was swung by the votes of two unelected members of the lifelong learning committee.
Afterwards, the Scottish Government confirmed in a statement to The Courier that while councils were required to appoint religious reps on education committees, their voting rights were "a matter for each local authority".
Local Roman Catholic representative Margaret MacFarlane missed the Blaringone vote due to illness, but the Church has stressed she would not have voted on the issue in any case.
The Scottish Catholic Education Service said its representatives will only vote on matters that affect Catholic schooling.
The service said the Church now has a diminished say on the future of the region's four Catholic schools.
---
>> Keep up to date with the latest news with The Courier newsletter
---
Director Barbara Coupar said: "Our Catholic representative wasn't at the meeting and it is important to note that even if she had been, our representatives do not vote on matters that will not impact on Catholic schools."
She added: "We believe there was a disproportionate response from the council on this issue and there were better alternatives to resolve the issue.
"The Church representative on the education committee has an invaluable role in articulating the official response of the Catholic Church on these matters."
Representatives from the Dunkeld Diocese, including Bishop Stephen Robson, have now asked for a meeting with council chiefs.
The motion to prevent unelected members from voting was raised by independent councillor Xander Mcdade.
"This is quite simply a matter of democracy," he said. "It is my fundamental belief that no one who is unaccountable to the electorate should be able to vote on public policy."
Councillors voted 21 to 19 against an alternative, wider review of council standing orders.
Following the council's decision, the Humanist Society Scotland called on other local authorities to follow suit.
The charity called on the Convention of Scottish Local Authorities (Cosla) to "urgently" review the status and power given to religious representatives.