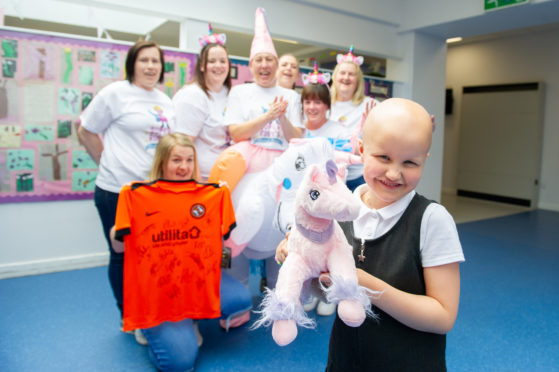 A group of Perthshire dinner ladies is going the extra mile to raise funds for a seriously ill schoolgirl.
Little Ruby Stewart has been diagnosed with a rare form of cancer – stage four alveolar rhabdomyosarcoma – for the second time.
Rhabdomyosarcoma is an aggressive and highly malignant form of cancer that in the cells of muscles.
The "bubbly" six year old attends Inchture Primary School and staff there decided they wanted to help fund research into the disease.
The four members of the catering staff from the school will be joined by colleagues from Invergowrie, Errol and St Madoes to walk the length of the Carse of Gowrie.
To honour one of Ruby's interests, the group plans to take turns in dressing in an inflatable unicorn outfit.
Organiser Siobhan Paddick, who works at Ruby's school, said: "We decided to do the walk and raise awareness of Ruby's charity because we wanted to do something to help but we wanted to make it different.
"The unicorn costume and dress up came about after a chat with Ruby and she said she liked unicorns.
"The school have been a great support by sponsoring us and giving us their full backing. Personally I feel the whole school is right behind Ruby and her family.
"Some of Ruby's teachers are doing the Race For Life next week and others have organised raffles and things. It's great to be part of school like this.
"Ruby is an amazing little girl and for a child to go through something like this is just cruel but this little girl is always smiling when we see her and doesn't let it put her down."
Ruby was first diagnosed with stage four alveolar rhabdomyosarcoma in September 2017 at the age of four.
The disease caused her to lose sensation in her legs but after intensive chemotherapy she went into remission and was able to learn how to walk again.
However, in February, she complained of a sore back and scans revealed relapse with disease progression in both legs, her spine and pelvic area.
Money raised by the school is being put towards a specially named fund – Super Ruby's Rhabdo Raiser – at the charity Children's Cancer and Leukaemia Group. So far, the fund has raised more than £13,000.
Among the items donated to raise funds for the charity is a signed Dundee United shirt.