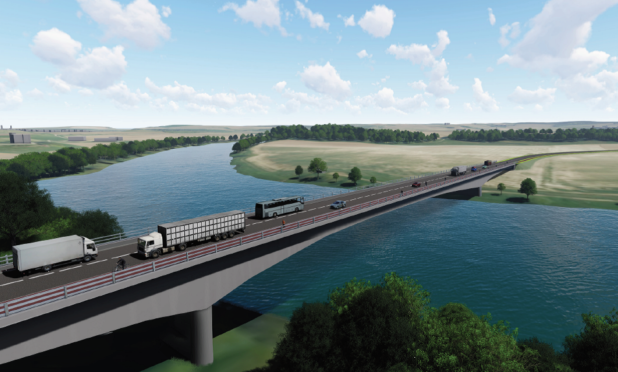 A community watchdog has questioned whether the Cross Tay Link Road  (CTLR) will solve congestion problems on the outskirts of Perth.
Councillors approved the finalised route for the £113 million project last week, following a pledge of £40million from the Scottish Government.
The ultimate aim of the scheme – linking the A9 with the A93 and A94 north of Scone – is to cut congestion in the city centre and reduce alarmingly high levels of air pollution.
Speaking at a public inquiry in Perth, David Beattie, vice chairman of the Bridgend, Gannochy and Kinnoull Community Council said it was impossible to say how the new road would benefit the problematic Bridgend junction.
The inquiry, which centres on plans for new homes at the old Murray Royal Hospital, earlier heard that drivers were making illegal maneouveres to avoid congestion at morning and afternoon rush hours.
Rivertree Residential wants to build 128 houses and flats at the former psychiatric facility, but is transport impact assessment – which suggests the project will have a minimal effect on traffic – has been widely criticised.
Following evidence from Perth and Kinross Council's transport planning team leader Alexander Deans, who said the CTLR will bring benefits to the area, Mr Beattie said he "remained to be convinced."
"This will actually give us a ring-road around the city, which is great news," he said. "But the bad news is that Bridgend is a leg in that. It will be part of the ring-road.
"In deciding the impact of the CTLR, you have to look at what level of traffic that is currently using the road, will stop using it because there is an alternative route.
"And you have to look at how many houses will be spawned as a consequence of this development? And how many cars will each of these houses have? What new businesses will be created and how many people will use the road to get to these businesses?
He said: "When you answer all of these questions, you can put together a useful model of what the CTLR will do."
Mr Beattie said: "Our view is that we would like to see this project established and tested, before we start saying: This is great, Bridgend has been solved."
James Findlay QC, representing Rivertree, cross-examined Mr Deans about the company's use of a traffic model – known as Linsig – to calculate how the new homes would impact on local roads.
"It was made clear to the council that Linsig would be used for that junction," he said.
"And maybe if the council came back at the time and said that was inappropriate – which is what the council is now saying about it – we could have done something.
"I suggest that the use of Linseg was entirely appropriate."
Mr Deans said he disagreed. Asked by Mr Findlay why he didn't say so at the time, Mr Deans said: "It's not my remit to dictate to consultants what method they use."
The findings of this week's inquiry will be published by Scottish Government reporter Dan Jackman later this year.