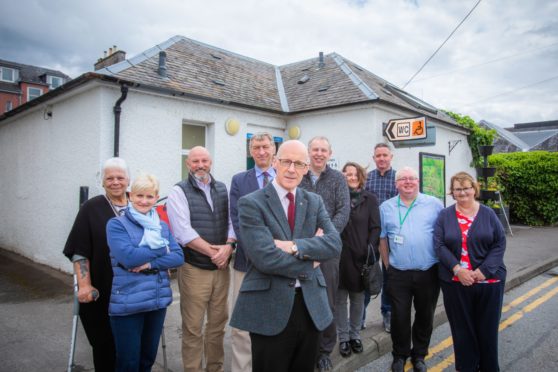 Coach tour operators are steering clear of one of Perthshire's best known visitor destinations because of weeks of toilet turmoil, it has emerged.
Following a flood of complaints from business owners in Pitlochry, Perth and Kinross Council has now agreed to extend public toilet opening hours.
Hotel owners said they were fed up with coachloads of tourists arriving in the town each evening to find local amenities locked up.
It led to "embarrassing and disruptive" toilet queues at town centre establishments that had signed up to the council's comfort scheme. Long lines of tourists snaking around diners and drinkers became a regular sight at hotels such as McKays.
News that public toilets will stay open until 7pm comes as a major relief to local businesses.
But Natalie Johnson, who runs the Scotch Corner ice-cream and sweet shop, said that the situation had prompted bus tours stopping making nightly pit-stops in the town.
"That's about 400 visitors [to the town] a night that we have lost," she said. "Hopefully, now that the hours are being extended we can welcome them back and start reclaiming that lost revenue."
She said: "These are tourists who have been stuck on the A9 for some time. They are obviously going to need somewhere to stop, but if there's nowhere in Pitlochry then they are going to try elsewhere.
"It's great that the toilet hours have been extended, but we have already lost the whole of July this year."
Richard Drummond, who runs McKays Hotel and Caffe Scozia, said: "We had to withdraw from the comfort scheme because it had become unsustainable.
"The disruption and mess that was being caused just became too much."
He said: "While its positive that opening times are being extended by an extra hour, I do feel that a place like Pitlochry, given its stature as a tourism destination, should have more facilities.
"Pitlochry has a great community spirit, but when it comes to basic things like public toilets we are being let down."
Council bosses agreed to the extension, following a meeting on Friday with SNP MSP John Swinney and councillor Mike Williamson.
Mr Swinney said he was "delighted" that the council had reversed its position.
"The situation in Pitlochry was clearly unsustainable," he said, claiming that a decision by tour operators to bypass the town would have "significant repercussions for the town's economy".
He said: "I am therefore glad that councillor Williamson and I were able to successfully convey the depth of concern surrounding this issue, and I am sure news of this move will be greeted positively."
Mr Williamson added: "I have been in constant contact with tour bus operators and the council to try and broker a solution to this problem.
"The extension of opening times will cost nothing but, for the local economy, is worth everything."
Perth and Kinross Council did not provide a comment when requested.