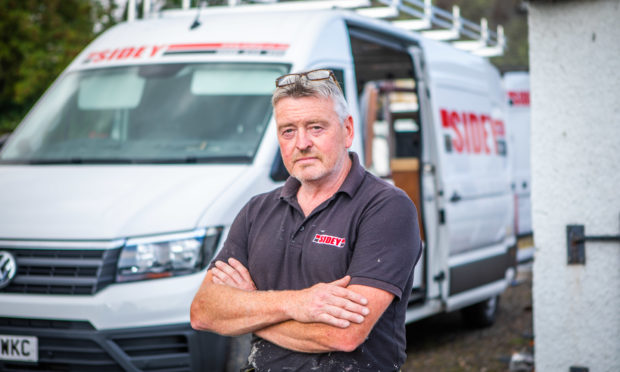 A pair of glaziers who stumbled upon the scene of a horrific hit and run  involving two teenage girls have described the traumatic incident.
Police Scotland is appealing for information after a road traffic collision involving a white van and two teenage girls, which happened outside the village of Rait, between Perth and Dundee, on Tuesday afternoon.
The collision took place at about 3.25pm, on the unclassified road heading towards the village, approximately 300 metres from A90 Inchmichael interchange.
The two girls, reportedly to be friends, and aged 14 and 15, were struck by the van while walking along the road.
They were taken to Ninewells Hospital in Dundee with serious injuries. The driver of the van was not injured.
Sidey glaziers Ian Rodger and Mike Wilson, from Cupar, were leaving the village just before 4pm, having been working on a property near the Annat Hall.
The duo found the girls 10 feet apart after they dived into the hedgerow, having been clipped by a Citreon Berlingo which was driving away from the A90.
Ian said: "We were the third on the scene, but nobody there saw what happened. As we drove past, we saw these young girls by the verge.
"It was unbelievable. One of the girls was suffering from shock and the other had serious head injuries. I stayed down with her until the emergency services arrived and stayed for about 45 minutes while she was being treated.
"I held her head and hand, spoke to her and tried to comfort her. She was slipping in and out of consciousness and was restless, fighting attempts to give her oxygen when the trauma team arrived.
"By the time I got home, my clothes were saturated with blood. I spent five years working with the fire service, so I've seen incidents like this before."
The road was closed for approximately three hours to allow officers to carry out a full investigation.
Mike said: "We spoke to the girl who was in shock, she was really concerned for her sister. She told us they were heading up the road, and looked back when they heard the noise of the van.
"They only had a split second to react so couldn't get out the way and onto the verge in time.
"The driver must have seen them. It's a long stretch of road and totally straight. I don't know what speed he was doing, but it shouldn't have been more than 50mph – we've been crawling along at 30mph because of how narrow it is."
A Police Scotland spokesman confirmed the driver did not stop at the scene but later made his way to a police station to make himself known to officers.
Officers explained nobody is likely to be charged until a full investigation into the incident has been completed.
The spokesperson said: "We are appealing for any witnesses to the collision or who may have seen the van driving on the road at that time or after the collision to get in touch by call Police Scotland, quoting "2446 of 23 July"  on 101 or when speaking to any police officer."