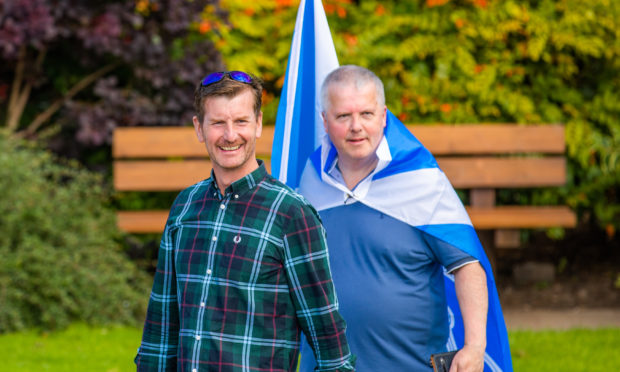 City centre councillors have clashed over Perth's biggest pro-independence march.
SNP elected members were criticised by one of their ward colleagues for joining thousands of demonstrators on Saturday afternoon.
Extensive road closures all but closed off the city centre to traffic on the busiest shopping day of the week.
It is understood that Perth Farmers Market, which operates on the first Saturday of every month, had to cease operating earlier than usual to allow counter-demonstrators to gather at the top of King Edward Street.
Conservative councillor Chris Ahern slammed his city centre colleagues Eric Drysdale and Andrew Parrott for taking part, when constituents had contacted him to say they were losing business due to the procession.
Speaking at the march, Mr Ahern said: "Shopkeepers have contacted me to say that this march has killed their business today.
"Everybody has their right to march, but the road closures have affected businesses in the centre.
"This is the route put up in the papers and nobody objected to it. I think the initial plans would have caused more disruption.
"I've seen other city centre councillors taking part today. The reason I'm not over there [with the counter protesters] is because I represent all my constituents, so I'm staying impartial."
However, Eric Drysdale believes that plenty of businesses, particularly in the bars and restaurants sector, will have benefited from the influx of pedestrians in the city centre.
"There is never an ideal time to hold a march. It was unfortunate that so many roads were closed but it was totally peaceful," he explained.
"There were around 15,000 people in the city centre, many of whom would not normally be there.
"It was a tremendous atmosphere and nobody can justifiably complain. This will have been particularly good for the bars and restaurants."
Councillors Drysdale and Parrott were amongst a handful of the local authority's elected members in the procession, with SNP group leader Dave Doogan speaking to the crowd from the stage on the North Inch.