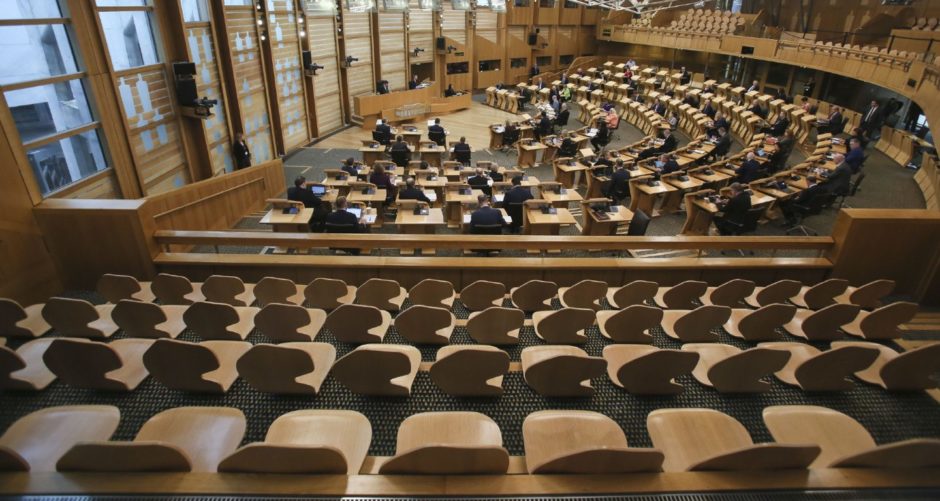 The Scottish Parliament has returned from recess and will for the first time adopt a special combination of video technology and social distancing measures to carry out essential business.
Presiding officer Ken MacIntosh said parliamentarians are "adapting and responding to a challenging set of circumstances"  in the wake of the Covid-19 pandemic.
Mr MacIntosh said he is confident the measures mean the parliament can still  "function as the place for scrutiny, transparency and government accountability".
However, a number of big talking points have already taken a back seat as parliamentarians redouble their efforts to tackle the coronavirus outbreak.
Drug and alcohol deaths
National Records of Scotland (NRS) has confirmed it expects to delay publishing statistics on the causes of deaths registered in 2019, including the numbers of fatalities relating to drugs, alcohol and suicide.
This information was scheduled to be released in June and July, and last year revealed Scotland had the highest rate of drug-related deaths in Europe.
NRS said some of the information it relies on to categorise deaths has been delayed but it expects to know more about the impact of this by the end of April, "including whether it then has enough information to produce figures for 2019 that are as reliable as, and consistent with, those for earlier years".
Deaths from unknown causes are investigated by the Crown Office and Procurator Fiscal Service but a number of outstanding toxicology tests have led to delays in finalising some causes.
NRS has said if the number of deaths with unknown causes remains too high by the end of April, it will be "unable to proceed to publish reliable estimates" in time.
A Scottish Government spokesman said: "We are continuing to take urgent action to address Scotland's drug-related deaths emergency – this includes the work of the dedicated taskforce we have established to help reduce the harms caused by drugs and save lives.
"This work has become more challenging due to Covid-19 and the effect on drug and alcohol services but we are working with Alcohol and Drug Partnerships who are doing what they can to keep the people who rely on their services as safe as possible."
Climate change
Climate crisis activist Greta Thunberg, who rose to fame after pupils around the world joined in her school strike, was named Time magazine's person of the year 2019 for bringing the issue to the world's attention.
This year was set to be a major milestone in tackling the crisis but Covid-19 has drawn the attention of global leaders away from environmental disaster.
Scientists believe lockdown measures may temporarily slow the momentum but halted legislation in parliaments around the world will also have a knock-on effect.
Climate change secretary Roseanna Cunningham has announced an expected update to the Scottish Government's climate change plan at the end of April will be delayed.
Ms Cunningham said the government remains fully committed to tackling the global climate emergency but it was "no longer feasible or appropriate" to meet the deadline.
"This does not mean that work on our ambitious plan will pause – indeed it will continue – but it is recognition that we are operating in a changed landscape," she said.
"It is vitally important that our actions in the coming weeks and months, even those in response to other major global issues such as climate change, reflect the worldwide situation and support our national response.
"I have written to the Committee on Climate Change to request its independent expert advice on the best way forward in these unprecedented circumstances and how the Climate Change update can contribute, in due course, to a green recovery for Scotland."
Friends of the Earth Scotland described the delay as "understandable" in this "extraordinary time".
Scottish Greens climate spokesman Mark Ruskell stressed the plan must "set us on a transformative path for the next decade" and if that means a pause while the Covid-19 crisis is tackled "then so be it".
Gender recognition
Reforms to the Gender Recognition Act have long been one of the most controversial areas of discussion at Holyrood.
Plans to make it easier for people to change their gender were put on hold last year after several prominent SNP politicians and ministers raised concerns over the potential impact on women-only services of allowing individuals to self-identify.
The Scottish Government said it is still committed to making the reforms but has been working to "build maximum consensus" around the plans.
Progress was halted on April 1 when government business manager Graeme Dey said the focus on Covid-19 "regrettably" meant work on the bill, and across other areas such as the tourist tax and Holyrood's own Brexit legislation, had to be put to one side.
It is understood "no consideration" has been given to delaying the next Scottish Parliament election in 2021 so, as things stand, it seems highly unlikely work on the bills will become law before the end of this parliamentary term.
Scottish disability benefit rollout
On the same day, social security secretary Shirley-Anne Somerville confirmed the rollout of two key Scottish benefit payments had been delayed indefinitely.
Child Disability Payment and the replacement for Personal Independence Payments were due this year to join a number of social security benefits devolved to Holyrood.
However, ministers said the current timescale is "clearly no longer possible" amid the growing outbreak of Covid-19.
Ms Somerville confirmed UK ministers have agreed to continue delivering disability payments to Scottish recipients over a longer transition period while efforts are focused on tackling the virus.
Scottish Child Payment, which was due to be introduced from this autumn, has also been delayed but the Scottish Government said it would focus resources to deliver it "as soon as practicably possible".
Alex Salmond complaints review
As he stood outside the High Court in Edinburgh after being cleared of multiple sexual assault charges last month, former first minister Alex Salmond said he had further evidence he planned to bring forward – but it would have to wait.
"Whatever nightmare I have been in over these last two years, it's as of nothing compared to the nightmare that every single one of us is currently living through," he said, nodding to the coronavirus pandemic.
Mr Salmond's former colleagues and SNP allies have already called for an independent inquiry into how the party handled complaints against him.
Edinburgh South West MP Joanna Cherry said his place in the history of the SNP "must be restored to the prominence it deserves", while others called for resignations at a top level within the party.
A Scottish Parliament committee was set to look into the government's handling of complaints from staff of harassment and bullying in the wake of the Alex Salmond trial but agreed to postpone any work until at least after the Easter holidays.
As part of their investigation, the committee will study the actions of First Minister Nicola Sturgeon, Scottish Government officials and special advisers, and how they dealt with complaints about Mr Salmond.
SNP MSP Linda Fabiani will be the committee convener, with a cross-party group also set to sit in on proceedings.
It is not yet clear when the committee will meet again or when Mr Salmond will seek to bring forward the extra evidence he has talked about.
The Salmond trial and the inevitable fallout could yet have serious political consequences for the SNP and its leader Nicola Sturgeon – but it seems one of the all-time rows in Scottish politics will have to wait for now.
Brexit and Scottish independence
How do you make the case for costly constitutional change at a time when the country is facing both a financial crisis and a health emergency?
That's the question facing activists in the wake of the coronavirus pandemic.
The SNP has already suspended its demands for a second independence referendum this year but a post-Holyrood election vote in 2021, which would likely also be rejected at Westminster, will be a harder sell if Scotland faces lasting economic damage.
There have been no up-to-date opinion polls to gauge the public mood on independence during the outbreak and it may be too early to tell what effect months of lockdown and crisis government will have on voters.
Boris Johnson has enjoyed a boost in approval ratings since the pandemic began but his actions have come under increased scrutiny in recent days following revelations about his behaviour in the early stages of the crisis.
Nicola Sturgeon has won plaudits from rivals for her handling of the situation but has faced criticism for her judgement following the resignation of chief medical officer Catherine Calderwood, whom she had stood by resolutely in the wake of a scandal.
It is not yet clear how either leader's position will hold up as the pandemic unfolds.
Similarly, the situation surrounding Brexit – which had previously seemed set in stone under Mr Johnson's premiership – now looks increasingly uncertain.
The UK Government said it remains committed to the agreed timescale of concluding trade talks with the EU by December 31 but is facing growing calls for a delay.
Political rivals argue the prime minister's team will struggle to bring the talks to an agreeable end when both sides are facing large-scale economic upheaval and are largely unable to meet face-to-face.
If the deadline is to be extended, it will need to be agreed with the European Union before the end of June.
The Scottish Government has suspended work on its own Brexit legislation but it remains to be seen whether Westminster will press pause on the project altogether.
Trial without jury
Justice secretary Humza Yousaf dropped controversial plans to temporarily scrap trial by jury after it risked scuppering the Scottish Government's emergency coronavirus legislation earlier this month.
The measures, which would allow judges and sheriffs to determine the outcome of major cases alone, were met with strong opposition from politicians and the legal profession before being scrapped just 24 hours after first being proposed.
Mr Yousaf said new, standalone legislation on jury trials will be put forward on April 21 following consultation with the legal community and victims' organisations.
However, he later told Holyrood magazine the Scottish Government is "very unlikely" to push on with proposals.
It is understood ministers are likely to either pursue plans based on social distancing for jurors or accept there will be a backlog of cases when the pandemic recovery begins.
Asked whether ministers are likely to push on with the proposals at the end of a consultation period, Mr Yousaf told Holyrood magazine: "I honestly think that will be very unlikely, because I don't think, from the conversations I've had thus far with the legal profession and others, that there is likely to be any change in their position, and this is not something that I am intending to force on to the legal profession even if I have the parliamentary arithmetic on my side."
A ministerial statement on justice is expected at 2pm on Tuesday and could give a clearer insight on what direction the government is heading in on the issue.