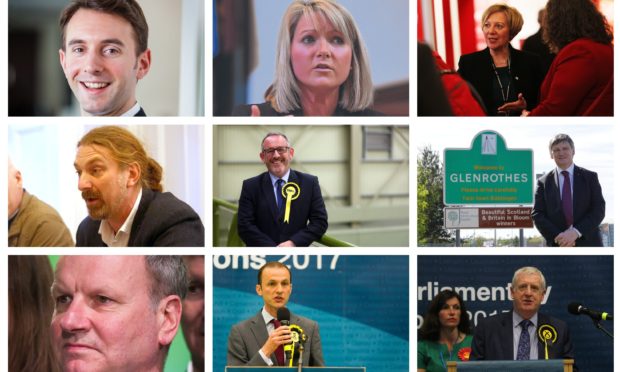 We asked the nine MPs in Tayside and Fife how they would vote on Theresa May's Brexit deal in the House of Commons.
The vast majority said they would reject the withdrawal agreement and framework for future EU-UK relations.
The vote is due to take place on Tuesday night.
Luke Graham, Scottish Conservative, Ochil and South Perthshire
I am minded to vote for it and the reason why is mainly because of the economic case. I have gone through the withdrawal agreement and economic analysis.
I think a hard Brexit would have an economic impact that I'm not willing to see my constituents endure.
I have not heard anything better put forward. The backstop is a difficult point. I would only say… that the EU have made a very public commitment that they do not want this to come into force. The whole point is it will be superseded by the political declaration (on future trade relations).
Lesley Laird, Scottish Labour, Kirkcaldy and Cowdenbeath
After 20 months of negotiations, I believe this Tory government's approach has resulted in a bad Brexit deal that does not work for our country and is unlikely to be endorsed by parliament.
This is a result of the government's failure and refusal to adopt the kind of approach to the negotiations that Labour have been calling for that could have safeguarded jobs and the economy.
Theresa May's botched deal is bad for Scotland, bad for the UK and bad for our communities. The prime minister has now lost authority. If, as seems likely, this deal is rejected by parliament, we need a general election to replace this rotten Tory government.
Kirstene Hair, Scottish Conservative, Angus
As MPs, we must decide what is best for the country. This is a good deal but, of course, it is not perfect.
I have listened to my constituents and businesses in Angus, who crave certainty and stability above all.
I met the Prime Minister, the Attorney General, the Brexit Secretary and even businesses based in Northern Ireland.
The deal protects our fishermen, and I will hold the PM to her pledge on this.
The backstop remains a concern, and I would prefer an end date.
But, on balance, the responsible approach is to support this deal.
Pete Wishart, SNP, Perth and North Perthshire
I will be voting against the deal because I refuse to support any arrangement that makes my constituents poorer and restricts their opportunities to work, live and love in a European community of 27 nations.
My constituents voted overwhelmingly to remain in the European Union and I will represent their interests on Tuesday.
I refuse to accept the government's threat that it has to be this deal or to leave the EU without a deal.
With the failure of this government to work out a satisfactory arrangement it will now be left to parliament to take control.
Chris Law, SNP, Dundee West
As your MP, I will not vote to make my constituents, my city or my country poorer, and Theresa May's Brexit deal does just that.
Scotland voted overwhelmingly to remain, and we know that Scotland stands to lose over 8% of its GDP from this disastrous Brexit, that will affect each and every one of us.
As someone who lived and worked in Europe, I also cannot vote for something that will remove opportunities from our young people. Given this, and given the almost unanimous voice of my constituents who have urged me to reject the deal regardless of how they voted in 2016, I will vote against the deal.
Stewart Hosie, SNP, Dundee East
I will be voting against the government's proposals.
It is not a negotiated agreement, rather it is a political wish list which leaves too many unanswered questions; it ends freedom of movement and it will result in reduced trade and productivity.
I cannot support the withdrawal plan – as both the UK and Scottish Government's own assessments demonstrate, Scotland and its people will be poorer.
This entire Brexit process has been used by the UK Government to engage in a power grab from our Scottish Parliament. Principally, Scotland voted overwhelmingly to stay in the EU and Scotland's voice should be respected.
Douglas Chapman, SNP, Dunfermline and West Fife
I will be voting against the Westminster administration's deal.
Sixty percent of people in West Fife voted to remain within the EU, and I sense that as people find out more about what this Brexit deal actually means in reality for their jobs, their families and that no one is going to better off, that number has only grown in strength.
Throughout the whole shambolic negotiation period, Scotland's voice has been disrespected and ignored. For a British PM to treat my constituents as second-class citizens here in our own country is simply unforgivable. She will not win my support.
Stephen Gethins, SNP, North East Fife
As one of the few MPs to have worked in the EU institutions, the misinformation that we have been fed over the past few years about the EU has been very disheartening.
We also know from the UK Government's own analysis that this Tory deal will cost jobs, mean less cash for public services and take away opportunities from young people that I enjoyed.
The best deal is the one we already have as a member of the EU, and although I will continue to work with colleagues from all parties to find common ground, I cannot vote for this deal.
Peter Grant, SNP, Glenrothes
Scotland voted overwhelmingly to remain in the UK. This fact must be respected in any deal. Instead we have a deal that by the government's own admission is bad for the economy, bad for jobs, undermines settlement and attacks our rights as citizens.
I will be voting against this and I find it incomprehensible that any MP elected on a promise to "stand up for Scotland" could even consider supporting it. The prime minister has finally admitted that we can stop Brexit and that is what the vast bulk of emails I'm receiving from constituents want us to do.