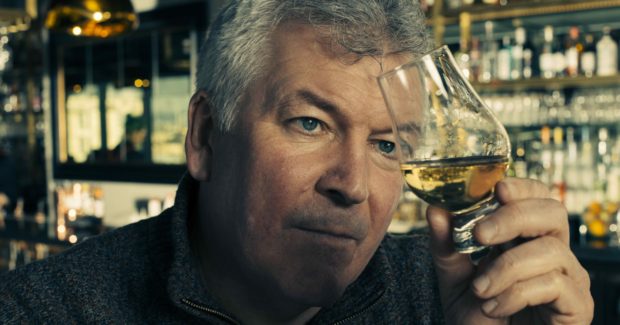 Gin and whisky experiences across Tayside and Fife can help to grow tourism and provide vital jobs in rural communities, tourism and industry bosses say. Michael Alexander investigated before the coronavirus outbreak struck.
Housed on the ground floor of the historic Rusacks Hotel overlooking the world famous Old Course in St Andrews, the Blendworks Gin Experience has offered discerning gin fans the chance to craft their own spirit since being launched by Eden Mill St Andrews in 2017.
Held in a specially designed spirits emporium, each three-hour session allows guests to become masters of the spirit, with so-called 'ginnovators' guided through the science and history behind the drink before a nosing and tasting session led by an Eden Mill expert.
The Old Course location for Blendworks has even attracted famous faces including cricketer Sir Ian Botham and musician Amy Macdonald.
But as Eden Mill continues developing its plans for a new distillery on a site at the former Guardbridge paper mill, the company's co-founder Paul Miller hopes the St Andrews Blendworks, and a similar experience available at Princes Square in Glasgow, will continue to inspire more consumers to join the gin renaissance and to promote and support the brand.
"Right from the outset, one thing that's been constant all the way through for Eden Mill is that we were very keen to add value to what St Andrews offered, and that's been really really important to us," said Mr Miller in an interview with The Courier.
"St Andrews is already a great place. It has a lot of attractions, a lot of global appeal.
"It also therefore has a lot of brands and products and businesses that try to rip it off and use the name, and take from St Andrews rather than add back to it. For us it was always really really important we offered something new.
"So one of the best things we've achieved in the eight years we've been here is to be the number one thing for people to do on TripAdvisor in St Andrews, in Fife, for quite a long time. That showed we must be doing something right with the number of visitors that we get.
"The was something we were really really proud of, and even though we have fairly modest and humble surroundings, that people were really liking the idea that they could come and see something that would generally be made in the St Andrews area, hand crafted and all the values that are associated with that, was great."
Mr Miller said gin has been a "real point of difference" to traditional whisky tours.
He said "new forward-thinking" distilleries view visitors as a really important part of their marketing mix.
"For us," he added, "having those experiences extends beyond just visiting the distillery, which is why we've included things like Blendworks in that. We can take that experience to another level.
"And that's in line with a consumer trend at the moment whereby people want to do stuff and have those experiences as much as they want to have and own stuff – particularly among millennial consumers – and people my age as well – who seem much more comfortable of that concept that it's about 'living life' not just about all the stuff that you can take to the charity shop one day because your wardrobes are full.
"Authenticity and integrity of product is also important. The ability to take people around our place and show them that really links to that authenticity piece."
It's a trend that's certainly reflected in recent research by VisitScotland in conjunction with The Brewers Association of Scotland (TBAS).
The growth in interest  in craft beers, for example, from younger demographics, most notably millennials, has driven a search for products that are "authentic and give an honest representation of their brand".
Consumers searching for transparency within their products have also been attracted to the craft beer phenomenon due to their ability to tell a compelling, honest story about their background and passion for their product.
Provenance has also played an integral role in helping craft beer brewers tell the story of their brand, highlighting their heritage and roots.
Although the vast majority of international visitors do not come to Scotland solely for the purpose of sampling craft beer, trying local food and drink enhances their experiences with visitors to Scotland spending 20% of their holiday budget on eating and drinking.
Visits to whisky distilleries are also popular, while the domestic food and drink market is also growing.
Caroline Warburton, VisitScotland Regional Leadership Director, said: "Scotch whisky is world-renowned and forms part of the rich tapestry of Scotland's history and heritage. Every year millions of visitors come to Scotland to sample our unique blends, premium malts and peaty flavours that make our national drink so special.
"With Arbikie Distillery in Angus, Lindores Abbey in Fife and Persie Distillery in Perthshire, to name but a few, whisky and gin tourism play an important role in the visitor experience across the Tayside area. This is particularly true for our international visitors, with one in five visiting a distillery as part of their trip to Scotland, and so many more sampling it in our bars and restaurants. This includes Glenesk Hotel's 360° bar which has over 1300 whiskies to choose from!
"The gin and whisky experiences available across Scotland's Tay Country helps tourism grow and provides vital jobs in rural communities."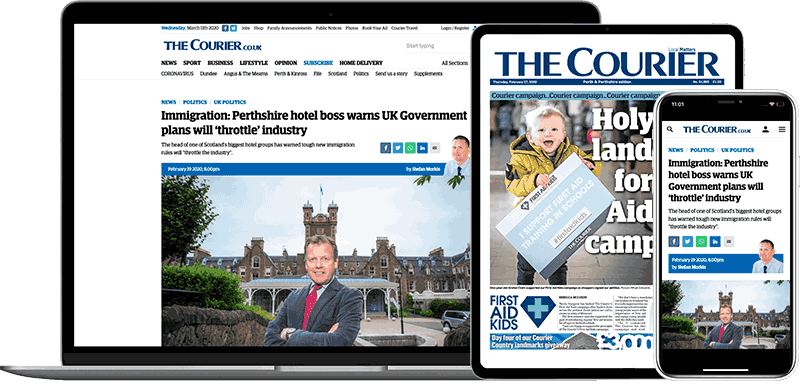 Help support quality local journalism … become a digital subscriber to The Courier
For as little as £5.99 a month you can access all of our content, including Premium articles.
Subscribe