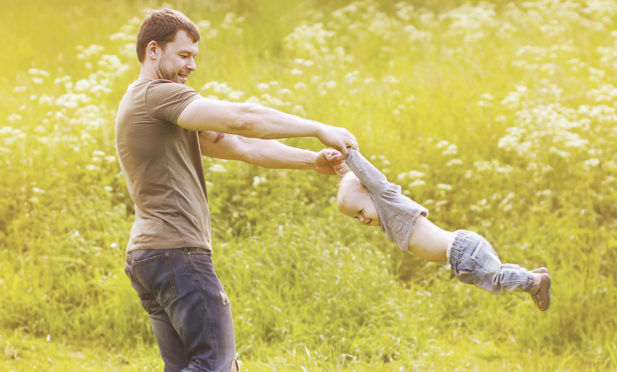 A father died last week.
He died without seeing his only child – from whom he had been parted for many years – one last time.
A cliche – the failed dad, the love disconnected and the tragic end?
This story is true. He had not failed in any way – a caring dad who kept a sober lifestyle and many friends.
His love for his teenage son was in no way disconnected – he fought to see him, supported by all around him.
The end was tragic – he died from a slow disease and his ex-partner would not allow him access to their only child.
It is quite right that the ancient bias of society towards men be corrected, but in one regard men are the victims of a great injustice.
Society allows the idea that mothers are better for their children, and tolerates a convention whereby a father can be separated from his child on social assumption alone.
It only takes a whisper to knock a man's relationship with his child into the gutter, when it would take an earthquake to make us doubt a mum and her kid.
There are centuries of proof that men wander off when a child needs love, or rage in the face of a family.
Men have behaved appallingly, and some always will.
But all people can be cruel, mothers no exception.
Once a mother decides upon her own course, there is little the authorities or society can do.
Of the many separated parents I know, it is common to hear a story of a mum who accuses the dad of some supposed inappropriate behaviour and decreeing that no contact will follow.
It only takes a whisper to knock a man's relationship with his child into the gutter, when it would take an earthquake to make us doubt a mum and her kid.
The accusation is immaterial – it is a dramatic device to win power.
When an agreed co-parenting plan is broken by one party, the only recourse are lawyers and the courts.
The first thing a lawyer will say is don't go to the courts.
Down that road lie social worker visits, the judgment of strangers, stress for the child and a lot of cost.
Try your best to negotiate with your ex, is the advice of the solicitor.
This traps many fathers in an extended drama, running over years, in which they must pacify, play dumb or thole many a broken agreement, in the hope of some time with their child.
Scotland clings to an out-of-date and disproven belief that a child should mainly reside with one parent and only "visit" the other.
Swedish society has long recognised that parenting should be split as evenly as possible.
The parents of Stockholm would be horrified at the barbaric practice of choosing one parent over another just because the adult relationship has fractured.
And Swedes would be appalled that the whim of the chosen parent was enough to disrupt or permanently sever the relationship with the other parent.
Scottish men used to get no emotional training in childhood. They were never told they were loved, they learnt about masculinity from glimpses of emotionally stunted dads and snatches of what men looked like in the media.
To be born a man is to be set on a lonely odyssey to find out what being a man means.
I struggled with this for years and only began to settle in my 40s.
But this is not the Scotland of old.
Men my age and younger are trying to do things differently.
There has been a revolution in love – of men and their offspring telling each other they are loved, of dads staying at home.
It is not that men's capacity for love has changed but that society is more tolerant of seeing it displayed.
This is no threat to the bond of mother and child, but an equal and different bond between father and child.
We love imperfectly – but that is human.
And we love persistently, and furiously, and peacefully – in this, men and women are the same.
Yet Scottish society clings to the idea that a separated dad is only for Christmas or alternate weekends. That a father is somehow additional to family, when a mother is essential.
What's done is done, and life is painfully hard for all of us, but it's time Scotland moved to a better way of understanding the family after the adult love has gone, and of understanding men who are struggling for a decency that they may not have known in childhood.
This is a point of justice.
Our practices around separation and divorce are prejudicial to many men.
It denies the human right to love and care for their child, and for the child to know love as part of a good life.
Life is a messy business and no law or habit will ever be enough to sort out the schemes of men and women, but it is surely within our hearts to ensure that any loving parent has an equal and protected right to love their child, and give that child a legacy of love to pass on.
In years to come, we shall look back on how we treat children and parents as an odd failure.
Too late for some.