I don't think anybody would ever have questioned the love of winning that Tiger Woods has had.
You can't really question his love of golf either.
To have been out of the game for so long and down the rankings for even longer, nobody could have argued if he'd decided to say 'enough is enough'.
All that time he's had to watch a new generation establish themselves – Rory McIlroy, Jordan Spieth, Jason Day, Dustin Johnson and a few others.
I've got such admiration for him to come back. And he played some decent golf last week as well.
He looks fitter and there have been some positive changes to his swing as well.
Winning another major, though? It's one thing playing competitive golf again but it's a whole different ball game to be winning at it.
* Thomas Bjorn's appointment as European Ryder Cup captain didn't come as a shock to anyone really.
Vice-captain to captain is a trend that goes back years.
You can see why, and for the most part, it's been pretty successful.
I guess Europe are making the assumption that the defeat to America earlier this year isn't the start of a trend in itself, and that they are not ready to ditch a tried and tested formula.
I'm genuinely undecided about this one.
Part of me can see where they're coming from but another part of me thinks that there's a danger that things will become a bit samey.
If we were to lose the next one then the argument to rip it up and start again will be a lot stronger.
* I don't know the ins and outs of how British Athletics decide who gets National Lottery Funding.
But I'm really pleased for Eilish McColgan that she won her appeal and is back on the programme for next season.
She made the Olympic final after overcoming injury and probably still has her peak years ahead of her so it would seem to be common sense that she gets backed.
When you're in a 'minority' sport funding is crucial and I know all about the worries you have when there is a cut.
Ultimately, we all know what the ground rules are – you need to be successful or you lose money. It's brutal but that's the world we live in.
* It's the usual strong field out in Canada just now for the latest Grand Slam event.
At the time of writing this we're sitting on one win and one loss so we'll be looking to pick up over the weekend.
There are certainly no distractions from the curling. The place we're staying near Ontario won't be on my 'must come back and visit' list, put it that way! And it's absolutely freezing!
We've got one more event in Japan next week then it's back home for Christmas.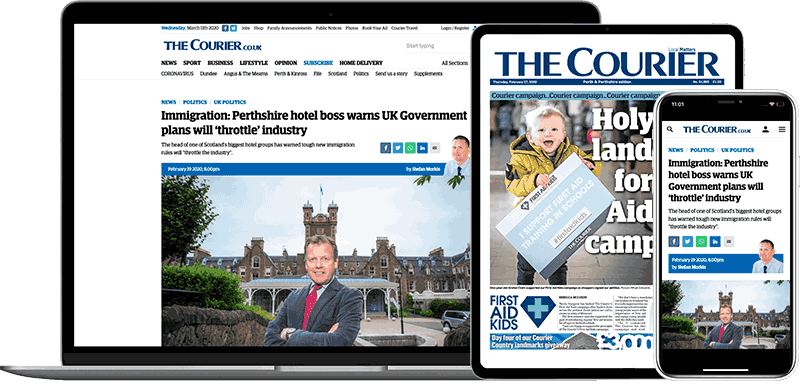 Help support quality local journalism … become a digital subscriber to The Courier
For as little as £5.99 a month you can access all of our content, including Premium articles.
Subscribe