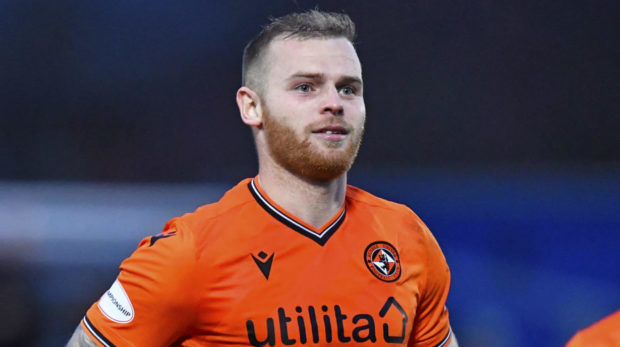 The last thing Scottish football needed was another story of a potential Covid-19 protocol breach.
We all know after the First Minister's talk about yellow cards a few weeks ago that the game is on thin ice.
As a coach at Arbroath, we've only just returned to training, and everybody is counting down the days until we get to play again.
So your heart sinks when you read that Dundee United are investigating an incident involving Mark Connolly.
There are two sides to every story and all the facts have to come out.
But if the Dundee taxi driver is right with his claims that Connolly refused to wear a mask in the early hours of Monday morning then the only way I can describe it is absolute madness.
Taxi drivers work in a confined space and have every right to expect to be able to do their work with their passengers respecting them.
On the broader point about footballers going out at night, I'm not going to be a hypocrite.
I worked hard all week and Saturday night was my release from the pressures of football (even though I never saw it as the pressure that other people have in their work).
But, with everything that's going on just now, you have to show common sense.
The fact that this is an international week has probably helped Connolly and the game as a whole – and let's hope United's investigation helps even more and shows that his behaviour was better than it's been made out to be.
---
You can totally get why Dundee are interested in bringing Charlie Adam to the club.
He's been a top quality player for a lot of years and he's never hidden his affection for the team he supported as a boy.
I still think that if he gets a better offer he'll stay in England, though.
From a Dundee point of view, the question isn't whether he improves their squad, it's whether they can afford him.
If he did sign, it wouldn't be for buttons. And he'd be going into a dressing room of players who have all taken pay cuts.
---
I've read people give their opinions on who should be Scotland's keeper on Friday night – David Marshall or Jon McLaughlin.
For me, there is no debate. It has to be Marshall.
Yes, McLaughlin has made a good start to the season with Rangers but Marshy is the man in possession of the jersey and has shown he won't let Scotland down on plenty of occasions.
Steve Clarke doesn't need to take a risk and I don't think he will.
---
Clarke has done Oli McBurnie a favour with his statement after the striker withdrew from the Scotland squad only to play for his club Sheffield United in a pre-season friendly a couple of days ago.
We'll know what he really thinks when it comes to naming his next squad.
Would I pick him? I don't think I would.
He's playing at a high level in England but this isn't the next Kenny Dalglish or Denis Law we're talking about.
The evidence is starting to pile up that suggests playing for Scotland isn't a big priority for him.