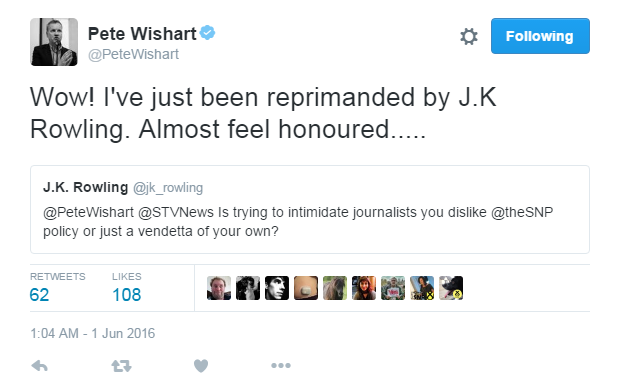 A Perth MP has become embroiled in an online spat with the best-selling children's author JK Rowling.
Pete Wishart, MP for Perth and North Perthshire, told his followers he felt "almost honoured" after being "reprimanded" by the Harry Potter writer for his thoughts on intimidating journalists.
Wow! I've just been reprimanded by J.K Rowling. Almost feel honoured….. https://t.co/hx7bwGhmP3

— Pete Wishart (@PeteWishart) June 1, 2016
Rowling questioned whether or not Wishart and the SNP had an active policy of intimidating journalists who question party policy, after the MP queried whether or not a tweet sent out by STV digital editor Stephen Daisley was a view held by the broadcasting company.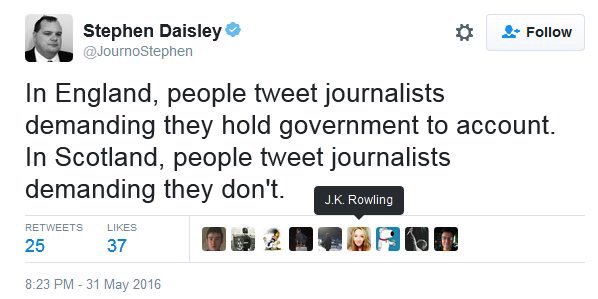 Is trying to intimidate journalists you dislike @theSNP policy or just a vendetta of your own?

— J.K. Rowling (@jk_rowling) June 1, 2016
Rowling then asked if Wishart would answer her seriously, to which Wishart replied that he was not interested in the STV journalist's views, but that he did want clarification on whether it was a view shared by STV.
The SNP shadow leader of the House of Commons then invited the author to discuss things further at one of his constituency surgeries in Aberfeldy.
No I'm not. Getting bit silly now. If you've still got the place in Aberfeldy come to one of my surgeries to discuss?

— Pete Wishart (@PeteWishart) June 1, 2016
People were quick to come to the defence of both Wishart and Rowling, with SNP councillor Kenny McLean alleging that the "unionist clique of celebs and hacks" jumping to each other's aid was "fascinating".
Fascinating how the unionist clique of celebs & hacks jump to each others defence at slightest hint of criticism

— Kenny McLean (@Kenny4PartickKd) June 1, 2016
Buzzfeed's Scottish correspondent Jamie Ross suggested that targeting the "world's most beloved children's author" might not be the smartest of campaign strategies.
If I worked for the SNP, my first piece of advice would be for everyone to stop arguing with the world's most beloved children's author.

— Jamie Ross (@JamieRoss7) June 1, 2016
J.K. Rowling was criticised by members of the Yes movement in 2014, after she came out in favour of the Better Together campaign during the independence referendum.
It was claimed by some that the author was getting involved in the online row with the former Runrig keyboard player to promote her new play, Harry Potter and the Cursed Child.
@PeteWishart think this is just done for publicity. Wants to keep name in news

— cath. (@crazycath62) June 1, 2016
The MP, who has represented the people of Perthshire as an MP since 2005, admitted that Twitter gets a bit "nuts" when you are having a disagreement with the "fantastic" author.
Things go a bit nuts on here when the fantastic @jk_rowling takes an interest in your tweets.

— Pete Wishart (@PeteWishart) June 1, 2016