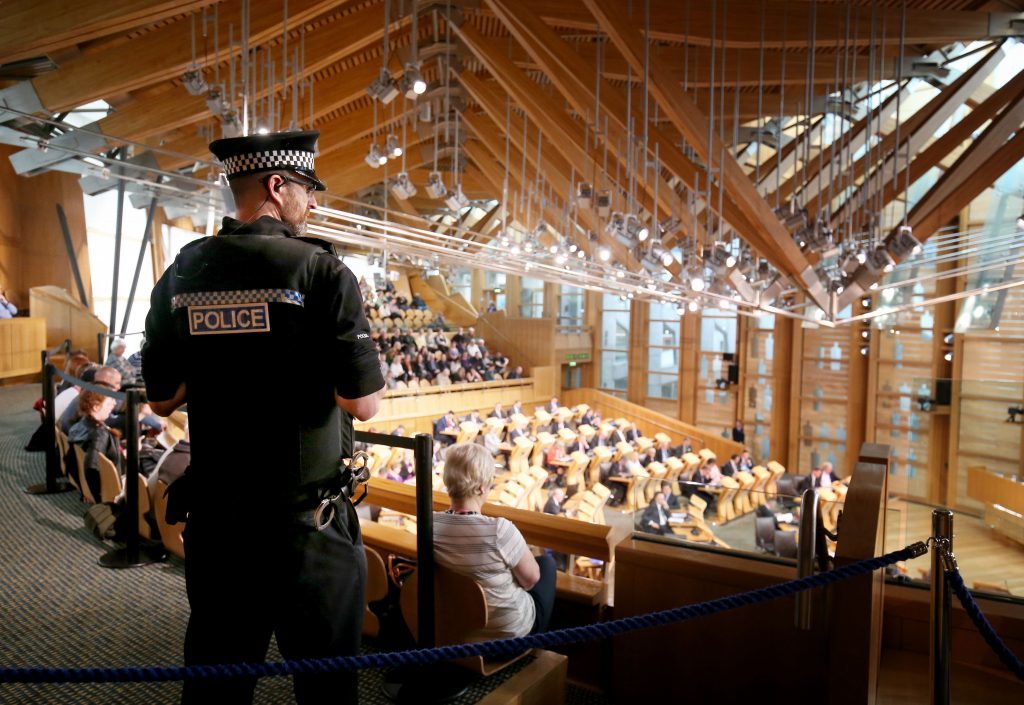 Taser-wielding police officers will patrol the outside of the Scottish Parliament following the Westminster attack.
An email to all staff from Sir Paul Grice, Holyrood's chief executive, confirmed the move as part of increased security following the act of terrorism in London.
The move came as the Scottish Police Federation debated the prospect of more armed officers being deployed on local streets as a response to the atrocity, which saw four people killed including PC Keith Palmer.
Sir Paul said: "Police Scotland will announce this morning that police officers carrying tasers will patrol the public area outside of the Scottish Parliament building with effect from today.
"Police Scotland has assured us that the move is an operational contingency measure and is not based on any intelligence threat in relation to the Parliament or Scotland.
"Following on from the Westminster attack, Police Scotland will undertake a review of its security arrangements at Holyrood."
Calum Steele, the SPF's general secretary, said more police officers should have the full range of equipment they needed to do their jobs.
He said: "It's got to be about more than machine guns. It's got to be about more than police officers with ballistic helmets, wearing their balaclavas and carrying out a very dangerous role.
"The terrorist attack in Nice, with the truck, was brought to an end by ordinary armed police officers.
"The terrorist attacks at Charlie Hebdo and the Bataclan theatre were brought to an end by tactical firearms officers. There is room for both. You need both."
Police Scotland's Deputy Chief Constable Johnny Gwynne told BBC Scotland the police response to terrorism and organised crime needed to be more nuanced than simply arming more officers and to a large extent depended on community co-operation.
The Scottish Greens claimed there was a case for fewer officers to carry weapons.
John Finnie, the party's justice spokesperson and a former police officer, said: "Whilst it is disappointing to see tasers being issued to officers who patrol the Scottish Parliament, I accept that the decision has been made in response to recent events in London.
"Nevertheless, the case has yet to be made for officers across the country to routinely carry the weapon.
"I previously challenged Police Scotland over the deployment of armed officers on routine activities. I will write to Police Scotland seeking assurances that the deployment policy implemented in 2014 will be maintained and that armed police should only be used in firearms incidents or where there is a threat to life.
"If the current threat level reduces we must see a reduction in use of armed officers."