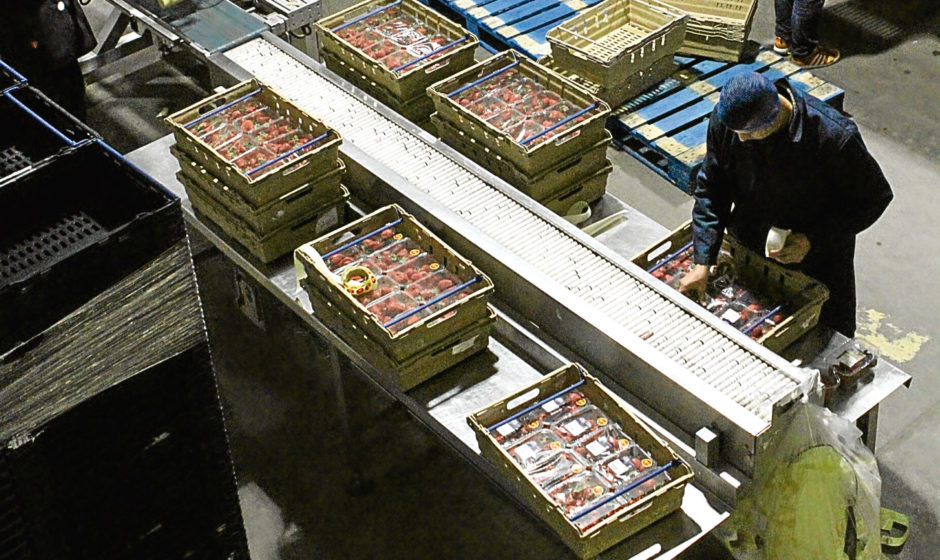 Farms across Tayside and Fife face closure because of a lack of staff, a report has warned.
The decline in seasonal labour coming to Scotland could render the £100m-plus soft fruit industry unviable if it continues, the Scotland's Rural College (SRUC) study found.
The report, which was commissioned for the Scottish Government, laid out the importance of the sector to Tayside and Fife.
The area employed about 7,000 seasonal migrant agricultural workers last year, which is nearly 75% of the national total.
Across Scotland, most workers told the SRUC survey they did not know if they would come back in 2018.
The SRUC report said: "Should worker availability remain in decline, this has the potential to result in the loss of some farms and impact the overall viability of the horticultural industry, with knock-on impacts for local rural economies, and the sustainable, inclusive growth of the Scottish national economy."
The fall has been blamed on workers being put off by Brexit uncertainty, improving economies in Eastern Europe and the weak pound making the move less lucrative for migrants.
James Porter, of Angus Soft Fruits, said he "cannot bear to think what it would be like" if the drop in seasonal migrant numbers carries on.
"It is quite an innovative industry and we do try to alternate and find ways to become more efficient where we can, but at the end of the day, we haven't been able to automate it because it is just too complicated," he said.
"The only way to pick fruit is by hand and there is not enough of a workforce in the UK that is willing or able to do it, so we are completely reliant on migrant workers to pick and pack all the fruit and veg."
Mr Porter called for a seasonal workers scheme, which would allow farms to bring in labour from places like Belarus and Thailand.
He warned that staying in the European single market, which Theresa May has ruled out, would not be enough on its own to end the workforce crisis.
In 2017, the Scottish workforce was up to 15% smaller than it needed to be, the report found, leading to increased costs, lost income and food waste.
The SRUC study added that Brexit has "undoubtedly affected the confidence of a proportion of workers and therefore their expectations about returning to Scotland in 2018".
Only two-fifths of the migrant workers surveyed said they would definitely come back this year.
Fergus Ewing, the rural economy secretary, said: "This latest report by SRUC on behalf of the Scottish Government underlines that the interests of rural communities are served best by Scotland remaining in the EU."
A UK Government spokesman said: "We are determined to get the best deal for the UK in our negotiations to leave the EU, not least for our world-leading food and farming industry which is a key part of our nation's economic success."