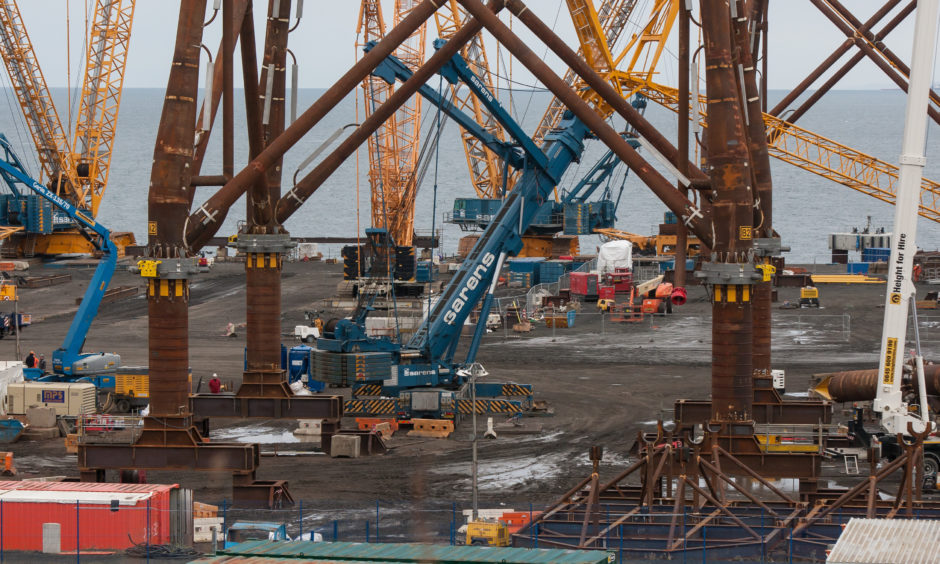 BiFab workers were kept in the dark about losing their jobs until just a few hours before they were handed redundancy notices, according to a source close to the yards.
New owners DF Barnes issued the statutory notices on Friday to 35 of the 43 staff working on the fabrication frontline in Methil and Burntisland.
The scale and speed of the job losses have shocked unions and workers, who had been buoyed by the takeover by the Canadian firm less than a month ago.
A source close to the workers said they should have been given a "week's heads-up" about the notices.
"You would like to think (the owners) would engage the proper consultative forums that are in there with the collective agreement.
"The worrying thing is looking forward. Hopefully that's not a sign of things to come with employment relations."
Workers say they were told about the notices on Friday morning, ahead of the midday announcement.
The Courier understands there are no meetings scheduled to take place between the owners, Scottish Government and unions over the bank holiday weekend.
On Friday, shadow Scottish secretary Lesley Laird, the Labour MP in Fife, said talks must take place over the break as a "matter of urgency".
The fabrication yard has been left without any work following the end of a contract for building platforms for offshore wind turbines.
The battle for BiFab received a boost three weeks ago with the takeover Canadian engineering firm DF Barnes, which was brokered by the Scottish Government.
Under the DF Barnes plan, the Fife yards would be left with a skeleton workforce of eight as the company seeks fresh contracts.
The GMB and Unite unions issued a joint statement last week saying that some workers would be out of a job "as early as two weeks' time and most will gone in three months".
"We knew the road ahead would be hard and the need for new contracts is obvious but clearly a major problem has emerged in terms of the future prospects for fresh work over the last fortnight," it added.
Last week the Scottish Government said they are there to  support staff and the unions.
A spokesman said the acquisition of DF Barnes is BiFab's "best chance of winning future contracts and securing new work", but warned of "difficult times" ahead.
David Torrance, the SNP MSP for Kirkcaldy, described the job announcement as a "huge blow" and said supporting workers' financial security "continues to be my absolute priority".