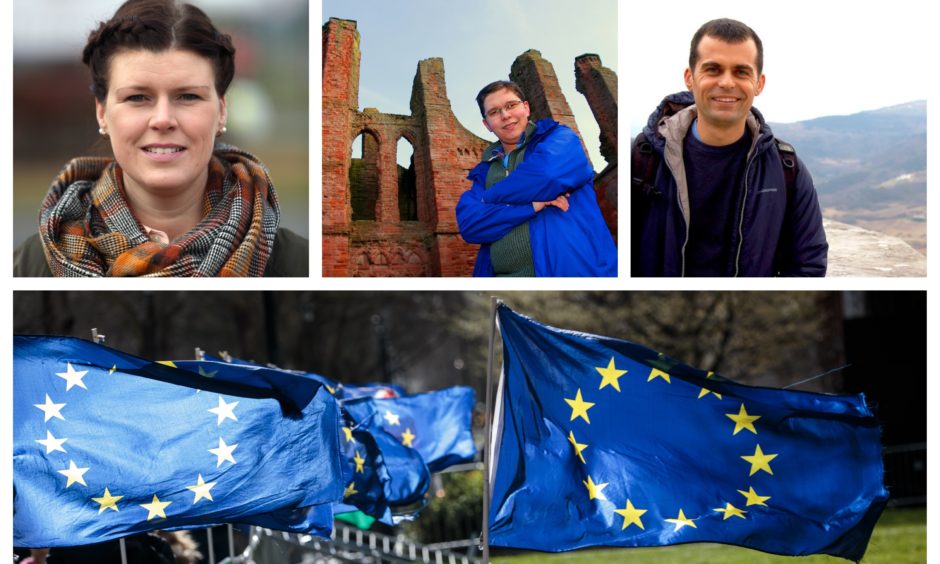 Millions of EU nationals who live and work in the UK will have to apply to stay in post-Brexit Britain from this week.
The settled status scheme launches in full on Saturday, with the 10,000 EU citizens in Dundee alone among those forced to sign up.
The Home Office says it will be "easy" for people to secure status, regardless of how the UK leaves the bloc.
But those who have made Tayside and Fife their home have told The Courier how unsettling that process and the wider 2016 referendum fall-out has been.
One Fife resident said EU citizens feel like they are a "disease that needs to be got rid of".
A £3.75 million publicity drive by the UK Government began on Monday, but Colm Wilson, of Fife Migrants Forum, said many EU nationals do not know what to do to ensure they can stay.
Jenny Gilruth, MSP for Mid Fife and Glenrothes, said: "The UK Government's treatment of EU nationals has been appalling.
"It is completely wrong to require EU citizens to apply for the continued right to remain in their own homes."
A Home Office spokeswoman said: "EU citizens are our friends, family and neighbours, and the Government has been clear that we want them to stay.
"The EU Settlement Scheme will make it easy for EU citizens and their family members who want to stay in the UK to get the UK immigration status they need."
Here are some of those going through the settled status process….
'Some people will fall through the cracks'
A Croatian has warned that Brexit risks triggering the citizenship chaos suffered by thousands during the break-up of Yugoslavia.
Dundee lecturer Dejan Stjepanovic is going through the "unpleasant" process of applying for settled status in the UK despite living here for years.
Dejan was a schoolboy in the early 1990s when Yugoslavia fractured into new states including Serbia, Slovenia and Macedonia.
The territorial politics expert referred to a dark episode in Slovenian history when 25,000 people were erased from the register of permanent residents amid the turmoil.
They lost all of their rights for 20 years, including to work and live legally in their home country and free medical care.
Dejan told The Courier: "I myself, having lived through the dissolution of Yugoslavia, know what sort of difficulties there are when a state collapses or when there is a massive upheaval of the constitutional system.
"Sometimes people are made stateless. This is the main worry that we are moving towards a society that government policies could potentially cause people to be in that kind of situation, which is completely insane if you ask me.
Dejan, 38, has lived in Belgium, Italy and Greece but is settled in Scotland, where his daughter was born.
The father-of-one said a direct comparison cannot be drawn between the Balkans and Britain, but added: "What is possible is to imagine scenarios in which some people will lose some of their rights. Some people will fall between the cracks.
"Some of these people won't find their way out."
Armed Forces families left in the dark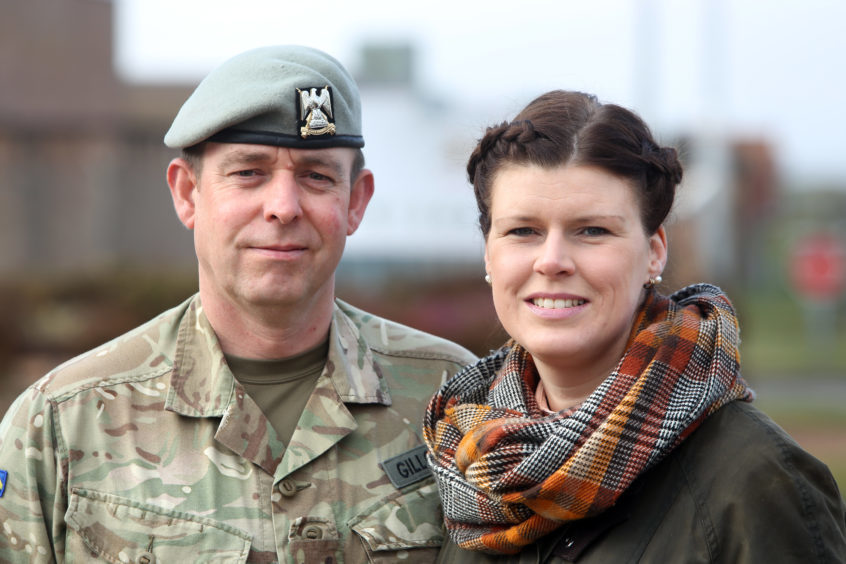 Military wife Joy Gillon made a public plea to the Home Office a year ago to step in to protect Army spouses who face losing their right to live in Britain.
The German national and others like her have been plagued by uncertainty over whether time served abroad would still count as continuous residence in the UK.
She was only informed that overseas postings are included following inquiries by The Courier.
Mrs Gillon said: "No-one has informed any of us or the Army about this so far. I'm absolutely speechless."
Her Scottish husband, Kevin, whom she married in 2012, is likely to be posted abroad, with the risk she will lose the four years of continuous residence she's built up.
Under the current Brexit plan, EU nationals can secure settled status if they can prove they have lived here for five years, which grants them the same rights as Brits.
Referring to a statement made on March 7, a Home Office spokesman said: "EEA and Swiss national family members who accompany members of HM Armed Forces overseas will be able to count that time towards their continuous residence in the UK."
Bureaucracy burden of securing settled status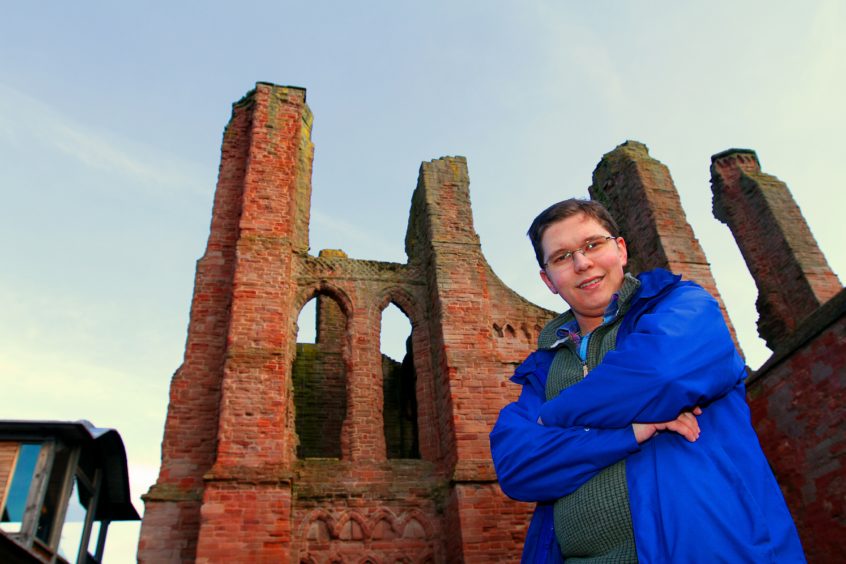 Hunor Deak has already secured settled status – but he found the
process arduous.
The 21-year-old, who lives in Arbroath, faced technology and documentation difficulties to prove he has lived in the UK  since 2011.
"I managed to get settled status by January. However the process wasn't without challenges," Hunor said.
"I have an Android phone from 2016. The EU Exit: ID Document Check app didn't work on my phone, so I had to borrow a co-worker's at the office.
"I had to submit a large volume of documents to prove that I have lived in the UK since 2011.
"At the end, my application was successful – but it only succeeded due to my habit of putting away receipts."
Hunor, who is originally from Romania and is now a student ambassador in Edinburgh, said both he and academics at the university fear Brexit.
NHS stalwart 'angry and upset' at registration
Retired NHS worker Nicole Pentland moved to Scotland from France in 1977.
Along with millions of other EU nationals in the UK, she will have to prove her right to live in Brexit Britain, a requirement that makes her "angry and upset".
The 71-year-old Fifer spent more than 20 years on the frontline of the health service.
Nicole, of Kennoway, told The Courier: "I have been here for 42 years, worked and paid my taxes so the government have all the information they need about me.
"Why should we be put on a special database, to be classified as immigrants when we are fully integrated and part of this country?
"For what we have to wonder, we cannot be trusted?
"Scotland is home for me, I am settled here. That is my status why should I have to apply for it?"
What is settled status?
Settled status gives EU nationals who have lived in the UK for five years or more the same citizenship rights as British passport holders, in areas including access to education, benefits and healthcare.
The scheme fully opens on March 30, although some people have already been able to apply
Applicants have to prove their identity, residential history in the UK over five years and will undergo criminal checks
The deadline for applications is June 30, 2021, or December 30, 2020, if there is no Brexit deal
Those who miss the relevant deadlines will be deemed to live here illegally
Those EU nationals who have lived in the UK for fewer than five years can apply for pre-settled status
Securing pre-settled status allows someone to live in Britain until they reached the five-year mark, when they can apply for settled status
The cut-off date for EU nationals arriving visa-free to live or work here is currently December 2020
Visit gov.uk/settled-status-eu-citizens-families for more information