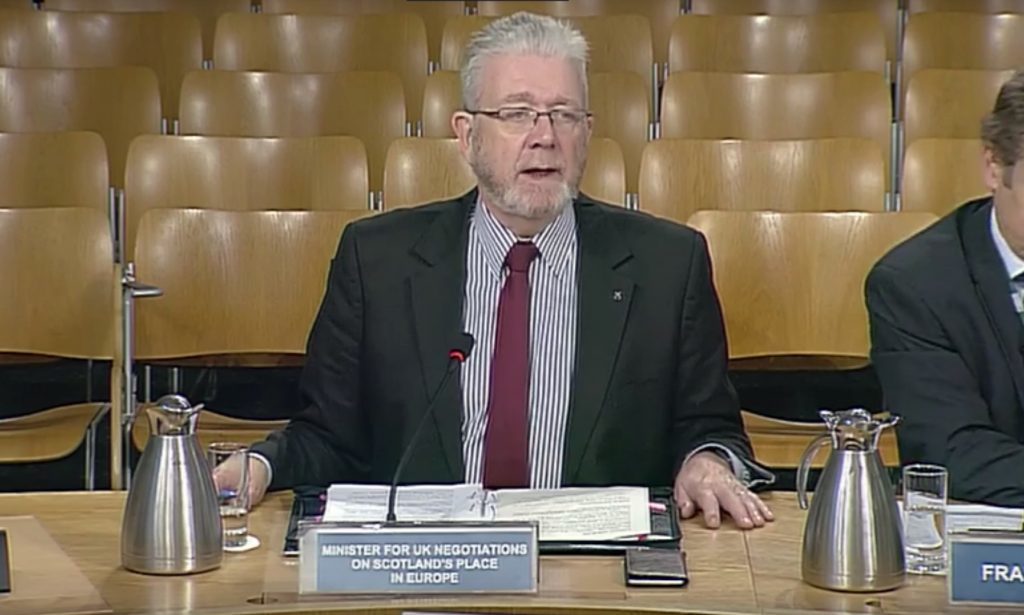 Ministers in Edinburgh will consider on Thursday whether to launch a round-the-clock emergency room for coping with no-deal Brexit.
The police-led command centre is ready to "be stepped up" at any time as a 24-hour operation, the Constitutional Relations Secretary told MSPs on Wednesday.
Michael Russell said work is ongoing to ensure medical and food supplies for Scots, but admitted they will not be able to cover every eventuality.
The SNP minister said the Health Secretary has worked with other UK administrations and there is a medicine stockpiling system "in place and ready to operate".
Mr Russell added: "In terms of food distribution, the retailers and others are reasonably confident that they can continue to supply, perhaps not completely uninterrupted with every item, but will be able to continue to supply.
"We have expressed particular concern about the ends of supply chains, which are in Scotland essentially, the north and west and the periphery of the country, and work has been done and continues to be done to make sure the transport infrastructure is robust enough to cope with that and Transport Scotland has been key and much involved in that."
Warning of the threat to food exports to Europe, which are worth more than £1 billion a year to the Scots economy, Mr Russell said it was not known how they would be received at EU borders, given no-deal means there would "no longer be a legal mechanism to enforce the regulations".
The upgrade of the Brexit base at Police Scotland's Bilston Glen headquarters to a 24-hour-a-day operation is "ready to go at any time", according to Mr Russell, who added the Scottish Government  will "discuss that issue again" on Thursday.
The Commons has made clear its opposition to a no-deal departure, but it remains the legal default for April 12 if neither a deal or an Article 50 extension is secured before then.
Nicola Sturgeon is due to take part in Brexit planning talks with the Prime Minister and other administration leaders at Westminster later on Wednesday.