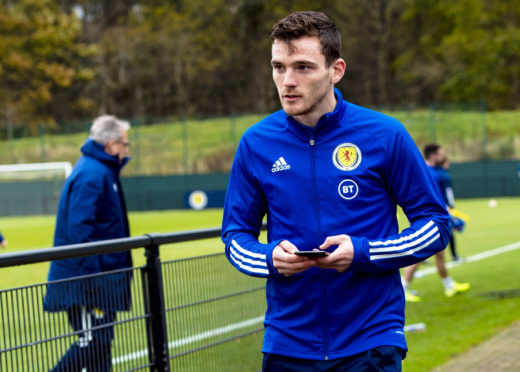 Andy Robertson has revealed that he had no choice but to drop out of the latest Scotland squad.
The former Dundee United defender hasn't been able to train with Liverpool over the last few weeks because of an injured ankle.
And, after the ankle ballooned up when Sunday's dramatic game against Manchester City was finished, for the first time in his career the Scotland captain had no option but to let his head rule his heart.
Robertson was one of three fresh call-offs yesterday – Scott McTominay and Ryan Fraser the other two. Defender Liam Cooper had dropped out the day before, with Lewis Morgan and Graeme Shinnie added to the squad.
"It's a big disappointment for me," said Robertson, who will stay with the group until they fly out to Cyprus for Saturday's match.
"I don't care what game it is, I want to play it and my track record in the last five years has shown that.
"But for the last two-and-a-half weeks I've not trained at all for Liverpool.
"I've trained the day before a game, missed a Champions League game other than the last 15 minutes and missed Arsenal in the League Cup and it's a niggling injury which won't go away unless I give it time.
"If you know Liverpool and our schedule we don't have time and after suffering another knock against Man City on Sunday it has gotten worse and I don't want to pick up more injuries and ruin my season because of it.
"The call has been made and it has been taken out of my hands.
"It hurts as captain to miss out. I know a lot has been said about these two games being meaningless but we don't believe that.
"We feel a page was turned against San Marino and we can start being more positive. I wanted to be part of that and drive us forward in these two games so we finish as high up the table as possible.
"We have two vital games in March and these games are important for that which is why I wanted to be involved. The only positive is the gaffer will get to look at other players such as Greg Taylor who hasn't had as much game time as he would have wanted at Celtic so I hope he gets game time and plays well."
Robertson believes his track record – he flew out on a budget airline to join up with his team-mates for a qualifier against San Marino after an emergency trip to the dentist – proves beyond any doubt his commitment to his country.
The full-back added: "The manager knew I was a doubt due to the concerns of my club but I told him I would be up with the lads before the team flies out to Cyprus.
"I wish the lads all the best for the game but unfortunately I'll be watching from home.
"For me, when I look back at my career so far I've played games I probably shouldn't have due to injuries and I've maybe been lucky not to make it worse. I am paid to play football and love playing football but if I keep playing this ankle is going to get worse and will be no use to anyone sitting on a treatment table.
"I've had to be selfish for the first time in my career and let my body rest. I've had to listen to the people around me when previously I would have told them to beat it and the fact my ankle has swollen up again has made it easier to miss these games.
"My ankle was already injured but Rodri tackled me late on in the middle of the park against Manchester City and it opened my ankle up again.
"I was already a doubt but unfortunately that made it even worse and that sealed it."
Robertson added:  "I wanted to come up and see the lads and all the staff and be around the place until they go. That was just my thinking.
"I understand our nation's call-offs are scrutinised a lot more because since the manager has come in there's been quite a few call-offs in every squad.
"But the lads unfortunately have to listen to their bodies and sometimes their clubs. Kenny McLean was here for four days at the last camp and was desperate to come to Russia but was told 'no' because the physios weren't confident he'd be fit.
"When you have a small injury sometimes you need to rest it.
"Unfortunately a lot of the time it happens on international breaks because you've maybe picked up the knock and you're going to different physios who don't know your body and how to treat it as well as physios working with you daily.
"We all want to play for our country and I know that from in the squad but I can see why the perception is maybe like that from the outside."
Steve Clarke will want to see points and performances in the final two group games but Robertson knows that all road lead to the March play-offs.
He said: "It's hard to be at your peak fitness in March, especially when you've been through a hectic festive period, but hopefully the manager has 40 players to pick from and nobody is struggling.
"That's the ideal scenario for him.
"These are big games because we want to finish the group on a high but if we were sitting here saying the next two games are bigger than the ones in March then nobody would believe us – and we wouldn't believe it ourselves.
"The games in March are so big for us and will decide whether we go to a major tournament or not so we all have to be fully fit and fully firing and hopefully confident after these two results."