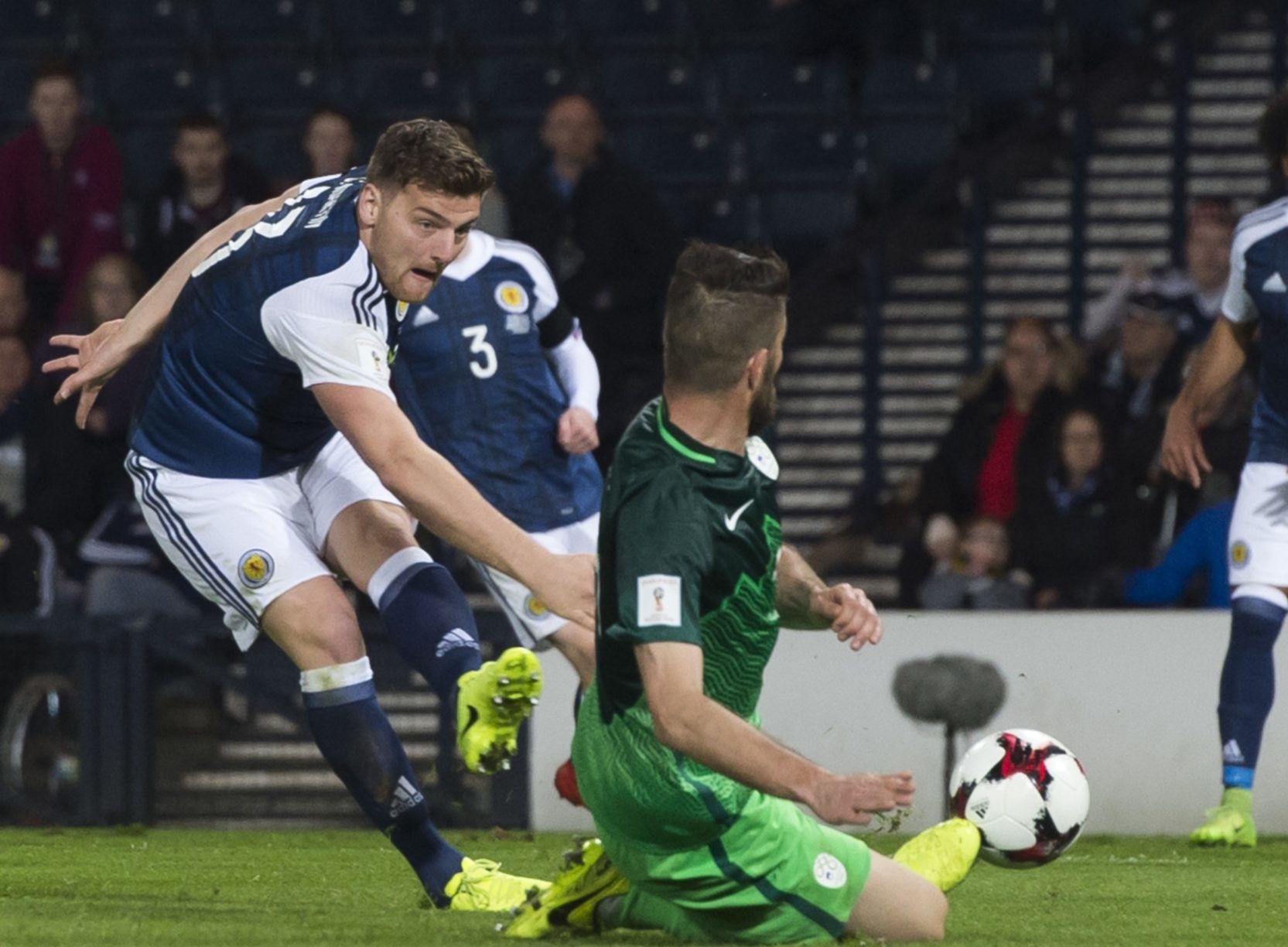 Scotland manager Gordon Strachan insisted he kept calm and carried on as his job hung by a thread at Hampden last night.
Anything short of a victory over Slovenia and it would have been all over for Strachan and curtains for the team's World Cup hopes as well.
However, a dramatic winner two minutes from time by substitute Chris Martin, who had been booed on to the park by his own fans, secured a well-deserved win for Strachan's men.
It moved them into fourth place in Group F ahead of Lithuania, who lost at Wembley, but still behind leaders England, second-placed Slovakia and the Slovenians.
Interestingly, though, the gap between them and the Slovaks in second spot is down to two points.
The odds are still against the Scots being on the road to Russia next summer but at least this gives them hope and confidence going into the June 10 home clash against the English.
Strachan said: "I am quite calm now and I was calm during the game.
"I think you get a bit emotional when things are not going well with the team but I couldn't complain about that tonight.
"All you can ask as a manager is that they go out and do certain things and they did everything they were asked.
"Indeed, they pushed themselves to another level.
"I knew whatever would be would be but I was enjoying the performance as a manager as well.
"Considering we were giving away height and strength they had to be at their best.
"For them to have to deal with not being up at half-time could have been a problem but it wasn't.
"We overcame that and came at them again."
After Leigh Griffiths had hit the woodwork twice and Russell Martin having a goal chalked off, it was heading for another hard-luck story until the other Martin scored.
Strachan said:  "It could have been that but whatever happened I was proud of that they were doing.
"I think everybody knows we deserved to win that game.
"It was a sweet moment for everyone who wanted to enjoy the victory with us.
"That was for them.
"This was a big game but we knew how big it was. We weren't hiding behind an invisible cloak.
"We told the truth and dealt with it.
"Anybody who was here tonight will go away feeling good about themselves.
"So I hope they all enjoyed it.
"The points were the most important thing but the performance helps as well.
"I think they have a feeling that they can go and match quite a few international teams now.
"It was a proud performance from us."
Strachan had reassuring words for scorer Martin, who was jeered as he came on.
The manager said: "Kenny Dalglish used to get booed, as did Alan Hansen and Gary McAllister. That's a great club to be in that one!"
And he had high praise for former Dundee United man Stuart Armstrong, who starred for the Scots on his first appearance and played in Martin for the winner.
Strachan declared: "That was the best Scottish debut I have ever seen."