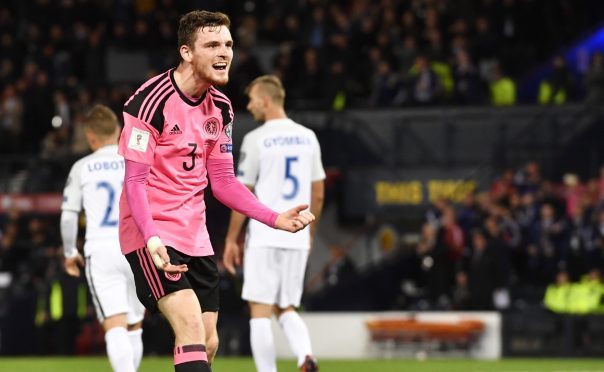 Andy Robertson is ready to shrug off his wrist injury as Scotland chase their World Cup dream in Slovenia.
The former Dundee United player was hurt during Thursday's thrilling 1-0 win over Slovakia after falling to the ground after being fouled.
Robertson only played on after having his right wrist strapped up and there was understandable concern that he might have to come off or even miss tomorrow's now massive clash in Ljubljana against the Slovenians.
However, the Liverpool left-back is confident he will be fit and a key member of boss Gordon Strachan's side in the Stozice Stadium.
Robertson declared: "I will be OK.
"I will put a wrist protector on or I will just strap it up but I should be all right for Sunday.
"I landed on my arm and then I couldn't really feel anything so I was worried a bone might be broken but the doctor seems quite happy with things.
"He doesn't think there is anything broken.
"My fingers are a wee bit fat and my wrist is a bit swollen but other than that I am OK.
"Hopefully, everything settles down and I will be OK."
Robertson revealed that Strachan was seriously considering substituting him before getting reassurance from the player himself.
"The gaffer came over to me because he needed everyone 100% fit," he said.
"He asked if I was OK and I told him to give me a minute and luckily it kind of eased off with the strapping on.
"I waved over to him and told him I was fine.
"He probably thought about taking me off if I wasn't going to be 100% but the pain wore off and I was able to finish the game."
Robertson claimed he didn't feel even a twinge in his wrist as the team pushed forward for the winning goal, which came from the foot of Slovakian defender Martin Skrtel under pressure from Scots sub Chris Martin.
He said: "I didn't feel anything.
"We were just driving towards the win.
"We were so focused on trying to get it.
"Maybe we were too focused, especially for about 10 minutes after the red card when we were a wee bit erratic.
"We managed to calm ourselves down and then their goalkeeper pulled off some unbelievable saves but I think we deserved it in the end.
"I can only speak for myself during the game but I always felt it was coming.
"Even when we were in 85th minute or so I still thought: 'This is coming.'
"We were creating too many chances and I felt one would go in.
"Luckily, Kech (Ikechi Anya) has put in a great ball to the front post and Skrtel has ended up putting it in.
"At the end of the day, it was in the area and if Skrtel didn't put it in then Chris would have done so. " "We have scored a lot of late goals.
"We also know we are a good team and we go right to the end.
"Everyone knows that about Scotland now."
As for the showdown in Slovenia, Robertson is predicting a tense and anxious evening.
"It will be heart in mouth stuff but the whole nation will be behind us," said the ex-Tannadice defender.
"The players and staff will now recover and get ready for going across there and it can end with us in the play-offs.
"We have done everything we can up to this point and now we are right in the mix.
"It is a kind of similar pressure to the Slovakia game.
"We knew Sunday wouldn't matter unless we beat Slovakia.
"We always knew we needed six points and nobody hid away from that fact.
"We are not at the start of the campaign where you might be able to drop points and it doesn't really matter.
"It was two cup finals and we know we need to win them both.
"I am sure the Tartan Army will be over in great numbers and if we can perform like we have done in the last couple of games then it will hopefully get us through the group."
"We are on a good run but we still have the last game and it is not finished yet.
"Nobody can get ahead of themselves and we need to keep everybody's feet on the ground.
"If we can do that we can go into Sunday full of belief."