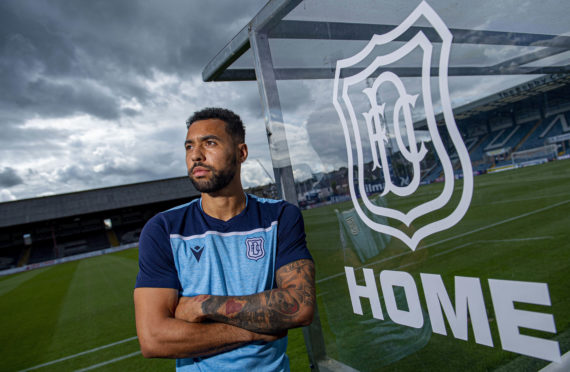 Dundee striker Kane Hemmings has thrown his support behind the club's bid for stability.
Dark Blues boss James McPake stated this week that there will be no big turnaround in players during the January transfer window as he aims for a settled squad.
Hemmings is right behind the plan as he and his teammates prepare to take on Inverness Caley Thistle in the Highland capital this afternoon.
He believes halting ther revolving door will benefit him personally and the club generally.
The English frontman said: "I came back here to get stability because I didn't want to keep jumping around clubs.
"I wanted to be somewhere, put down roots and be there for a long time.
"I went down to England and moved around but I don't want to do that any longer.
"I don't want to be heading to a new club regularly and have to move, meet new managers, new teammates and new staff.
"I want somewhere where you can spend a bit of time.
"That's from both a football perspective and from a personal life point of view.
"You want to get settled somewhere because that's when you play your best football," added Hemmings, who counts Rangers, Cowdenbeath, Barnsley, Oxford, Mansfield (loan) and Notts County among his former clubs.
"I think the club needs that stability, too, and it was clear that's what they want when I was speaking to the gaffer about coming here.
"There is a lot to be said for getting a group of players and sticking with them for a period of time.
"Seeing the same faces, getting that familiarity on and off the pitch can be really valuable.
"Success doesn't come immediately but if you stick with a group and with an idea, then you get your rewards for that."
While city neighbours Dundee United got the core of their squad in by last January, relegation meant wholesale change was the scenario for Dundee over the close season.
Hemmings said: "Our team was only put together in the summer but I can see a group which could be together for a while.
"We are getting to know each other properly and you can feel things coming together.
"Nothing has changed too much round the club compared to when I left.
"It's the same training ground most days, the same people around the club, it's just the dressing-room is different.
"Obviously we are in a different league and the aim has to be to get out of it now."
The derby result left a cloud over the club but Hemmings insists they are ready to go again today.
He said:  "Dundee United are ahead of us at the moment but we have a chance to get three points closer with the game in hand this weekend.
"All we can do is just try to win our games and then after that you look and see what other clubs do.
"If you win and they lose then great, if you both win then so be it and you go again the next week.
"That's all you can do.
"In this league there will be a lot of shock results over the next few months.
"Arbroath are up in fifth place which has surprised a lot of people but it shouldn't really because they have good players.
"They are capable of beating anyone in this league just like Partick Thistle, who are bottom but shouldn't be there.
"It is massively competitive and such a hard league to get out of."
Hemmings admits that there have been both good and bad times since he returned to the club.
"That has been the case for the team and for me personally," he said.
"Some days we have been good, others not so good like in the derby.
"It is about becoming consistent now because you need to get a run together at this time of year.
"It's easy to sit back and say there are loads of games left but I always feel it's at this time of year they start coming thick and fast.
"Before you know it, it is the new year and you are heading into the real business end of the season."