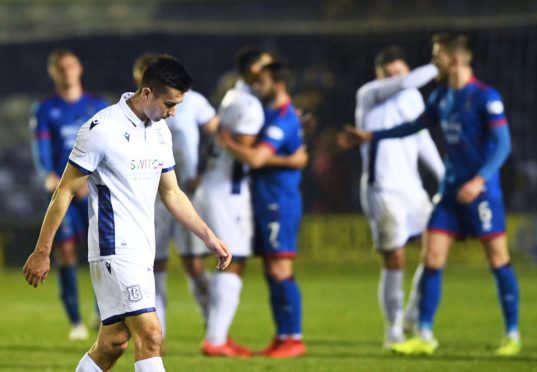 Dundee's big name central midfielders couldn't help produce the big game win the club needed at the weekend.
But Jamie Ness doesn't believe that means the experienced quartet in that part of the field should be broken up after one frustrating afternoon in the Highlands.
There was nothing wrong with the set-up or the tactics to get the better of Inverness Caledonian Thistle on Saturday, said Ness. It was the execution that needs to improve.
"The game plan was to control the ball and control the midfield, which we did," the former Rangers man pointed out.
"As soon as they scored their goal they had every man behind the ball and we didn't move it quickly enough, didn't utilise the wide areas enough and didn't give the strikers enough service.
"There's a lot for us to work on but I still think there's potential for that formation and the players in it to do really well.
"We had a few chances in the first half but we were a little bit too patient in general.
"We should have played it faster.
"We need to rectify these things and make sure we're ready for next Saturday.
"We'll go away and analyse it but if we want to be where we think we should be then we know we need to be a lot better."
Ness getting through the full game with no injury issues was one of the plus-points of the afternoon.
"It was obviously good to get back in the team but it's a disappointing feeling to lose," he said.
"I felt good and I'm hoping to kick on from here."
This was by no means an awful performance.
The control in midfield that Ness spoke about was there, certainly before the hosts scored.
It was a poor goal to concede, though. David Carson should have been prevented from crossing to the back post and Conor Hazard would have been disappointed to let Aaron Doran beat him from the tightest of angles.
John Robertson is usually a reliable judge of how a match has gone and he admitted Dundee were turning up the heat before the break, at which point there was a goal-line clearance by Carl Tremarco after Jamie McCart's miscued header had own-goal written all over it.
However, that Caley Thistle were able to see out the contest with only a Danny Johnson volley threatening their lead, shows that there was no second half onslaught from the visitors.
Dundee boss James McPake gave a fair and balanced post-match verdict.
"We had a lot of possession and moved the ball about but we did it in the wrong areas," he said.
"We didn't hurt them enough by getting into the final third quickly enough.
"We were pretty wasteful at times. We trouble the goalie with crosses into the box.
"Today was a return the start of the season when we created very little."
Meanwhile, McPake has three players who will need injuries assessed this week – Andrew Nelson, Jordan Marshall (who both missed the game) and Jordan McGhee (who came off early).
He reported: "Neller (foot injury) has been out all week. We thought Marsh (hamstring) would be fine but he had to pull out late on Friday.
"We'll get him re-scanned on Monday and keep our fingers crossed.
"Jordan McGhee has picked up a tweak as well."
On the 12-point gap with no games in hand, McPake observed: "You can't paper over it. We're miles behind where we want to be.
"It's in plain sight for everybody to see.
"We need to get ourselves in order. It doesn't matter what happens elsewhere. If we can't find ways to win a game of football it genuinely is irrelevant what's happening elsewhere.
"We need to get things right. A few weeks ago it looked like we were. As a group we need to find a way to get this club into a position it should be."
Caley Thistle are a bit closer to United and match winner Doran certainly doesn't see it as mission impossible to catch them.
"The past few results haven't been good enough so that was a big performance and result," he said.
"We know Dundee United have pulled away but there are a lot of games to go.
"The last time the club got promoted they were a long way back so it can be done.
"If we get our heads down and put in performances like that we'll have a chance and it will be closer than it is now."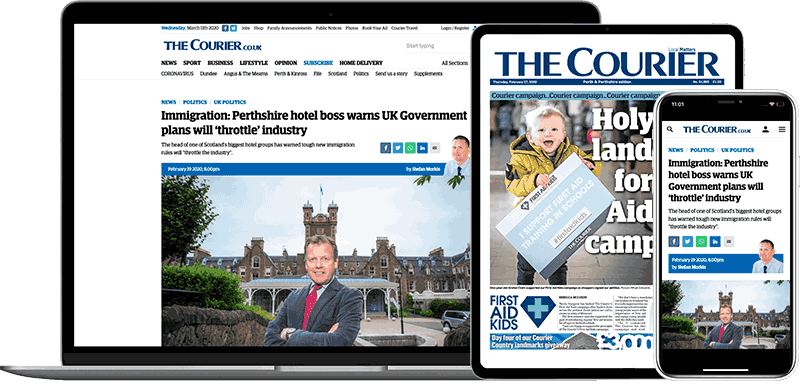 Help support quality local journalism … become a digital subscriber to The Courier
For as little as £5.99 a month you can access all of our content, including Premium articles.
Subscribe