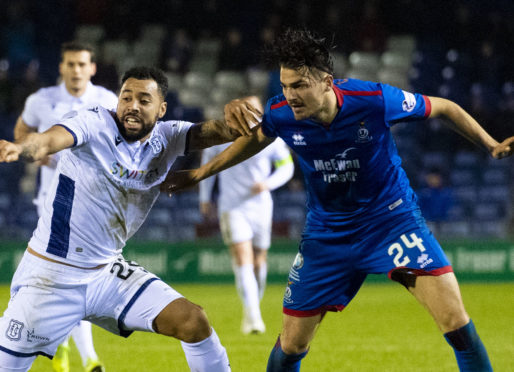 In this week's Talking Football Eric Nicolson and Ian Roache assess a Dundee problem that won't go away, the Premiership relegation battle and a weekend of Scottish Cup shocks.
Were you surprised by James McPake's team selection in Inverness?
EN: I thought Cammy Kerr was one of Dundee's better players in the derby so seeing him benched was a bit of a surprise I must admit. Other than that, with Jordan Marshall injured, there weren't any great shocks. It was the performance rather than the team selection that caused the defeat.
IR: Likewise, I thought Kerr did a decent enough job on United's Louis Appere in the derby. With Marshall missing on the other side that meant they were without both their usual right and left-backs.
The ponderous Dundee midfield play has resurfaced as an issue again. Are the midfielders or strikers more culpable for this?
EN: McPake was quite right to view this as a throwback to the early weeks of the season. I'd certainly seen this movie before on more than one occasion. You could understand the logic in packing the middle of the pitch for a tough away game like this and McPake got the control he was looking for in there for large spells. But I would highlight the lack of movement up front – as I did when this was happening in August and September. Too often Dundee's playmakers were looking to make a pass and there were no decisive runs being made.
IR: Call me old-fashioned or even naïve but I think the last thing this team should have been after their derby flop was ponderous. The disconnect between the midfielders and Kane Hemmings is an ongoing concern. Both are probably to blame.
Has the derby defeat knocked the Dark Blues' confidence again?
EN: It probably has. It partly explains the caution in their play at Inverness. The break wouldn't have helped their rhythm either.
IR: It maybe has but there should be absolutely no more time wasted dwelling on the derby. The position they are in means that's a luxury they can't afford. Again, I think this match should have been all about a determined Dundee side taking the game to ICT. I just feel the Dark Blues were due their fans an attacking, winning performance.
Are they effectively playing for second place already?
EN: I think so. Dundee are pretty much where I thought they would be in relation to Ayr and Inverness and I don't think there will be a struggle to make the play-offs, as some are now fearing. United are running away with it, though.
IR: United's previous promotion failures makes me cautious but even I am beginning to believe it is theirs to lose. I also think there will be a few realists at Dens who are of the same opinion. Covering the Championship also means I have been schooled in how tough it is to get promoted via the play-offs but qualification for them looks like the target to aim at for the rest of the season.
Even when they're not playing United have a good weekend, it would appear. Do you expect them to pick up where they left off at Morton?
EN: Yes. I expected more from Morton under David Hopkin but I think they're poorer than last season.
IR: The Greenock men were demolished by United in the first game at Tannadice and their defending – let's be polite – left a lot to be desired. The Tangerines were excellent in attack against Queen of the South last time out and should be playing with a spring in their step looking at the league table. There looks to be only one possible winner but I expect it to be reasonably tight, with Robbie Neilson's men edging home by a goal.
Lawrence Shankland won't be playing. Will it be the same starting XI that dismantled Queen of the South?
EN: I'm answering 'yes' to a lot of these! Obviously Shankland would have come back in had he been fit but, as he isn't, there is no need whatsoever for Neilson to be tempted into tinkering.
IR: I agree with Eric! The manager has a few options should he want to change but I'm pretty confident it will be as you were.
Nine-man St Johnstone got themselves a point on Sunday afternoon. That's the sort of backs-to-the-wall team spirit managers love to see, isn't it?
EN: In some ways this will boost confidence more than the wins against Hamilton and Hearts. Keeping Aberdeen out with nine men for the best part of 15 minutes was a magnificent effort. It was just as well because the impact losing a late goal after putting in all that hard work would have had doesn't bear thinking about.
IR: The cheer from the Saints fans at full-time said it all. It felt like a victory. They held out superbly for the final part of the game and it was particularly pleasing to see Zander Clark pull off so many terrific saves.
Four teams are now joint bottom of the Premiership. What's your assessment of who is likely to be involved in a relegation battle and who might pull clear?
EN: As appalling as Hearts were when I saw them last against Saints, I would expect them to pull away after eventually getting round to appointing a new manager (the time it has taken has been ridiculous) and throwing some money at it in January. The good news for the other three clubs is that Ross County are within three points and their promotion bounce wasn't nearly as telling as some of us thought it would be. I think County, Livi, St Johnstone, St Mirren and Hamilton will all be involved until about February. Accies and the Buddies would be my picks for the bottom two.
IR: Someone once told me that they thought three things would survive a nuclear war: scorpions, cockroaches and Hamilton Accies. They always escape, don't they? It is the law. Therefore, I will go for St Mirren despite their fine win on Saturday.
What do you make of the Scottish Cup carnage for SPFL teams at the weekend?
EN: The overall message is that the pyramid system is working because the Lowland League, Highland League and East of Scotland League have a lot of strong teams in them. And to go off on a tangent, it is a reminder that Brechin City really need to get themselves off the foot of League Two.
IR: It is hard to pick out the worst result of the weekend because there were so many but I will go for East Fife's 4-3 home loss to BSC Glasgow because I would not have predicted that in a million years.