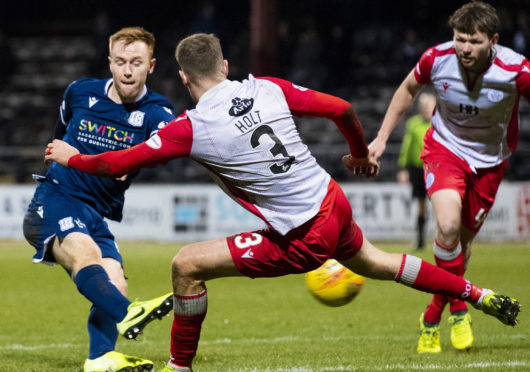 Whether it is as one half of a partnership or up front on his own, Danny Johnson has backed himself to go on a goal-scoring run for Dundee given the chance.
The former Motherwell man hasn't started a game since mid-September and his game-time against Queen of the South was off the bench again on Saturday.
It was a longer run-out than usual as a result of Jamie Ness pulling up with a calf injury in the dying moments of the first half, and Johnson staked a claim for a rare start at Arbroath this weekend by scoring a fine 18-yard equaliser for the Dark Blues, his sixth goal of the campaign.
The 26-year-old doesn't subscribe to the theory that he isn't suited to a 'one up top' role but did admit that having a strike-partner would be his preference.
Either way, getting on from the first whistle is his immediate priority.
"I'm obviously someone who wants to be playing," he said. "I know what I can do when I'm playing.
"But decisions are decisions. I've just got to get on with it and prove my point when I get my chance.
"I actually didn't see my goal going in. I've just turned, caught it perfectly, and seen it going towards goal. I've kind of fallen away so didn't see it hit the net.
"I'm pleased that it's gone in and I've taken my chance."
Johnson added: "People always say that I can't play up front by myself but I would disagree.
"I've told many people – previous managers – I can play there if they believe in me.
"Everywhere I've been I've always been moved out to the wing.
"People do see me playing as part of a two up front. To be honest, I feel I'm best playing with someone and making runs together.
"It's about moving defenders around and taking advantage of those little gaps when we move them.
"But I just want to play football. If it's as a lone striker or as part of a two, I'll make it work."
On the prospect of a Johnson-Hemmings combination, he said: "We've got to find a way to break teams down if it's with one or two up front.
"But it's difficult when you're playing up there by yourself and you can't break teams down.
"You do get frustrated when teams sit in and there's not much room for players to get on the ball and find you.
"I think we could work well as a partnership. I know the scoreline doesn't show it, but we haven't really played much together.
"If you look at the first-half against Dundee United earlier in the season – even though we lost 6-2 – I think we played well together then.
"We do show glimpses of playing well together when we're on the pitch."
Johnson's strike would have been a worthy point-saver but the team performance as a whole wasn't.
Dundee started brightly but failing to score when they were on top chipped away at their belief and Queens grew stronger from midway through the first half.
Stephen Dobbie equalised and could have had another couple before Johnson found the net.
What happened from the subsequent re-start was the stuff of nightmares for Jordon Forster. His failure to deal with a bread-and-butter diagonal ball invited Dobbie on to him and it was no surprise he showed the composure to take full advantage.
"It's tough to take especially when you get back in the game," said Johnson.
"To be honest, we probably didn't deserve much from it.
"But to get back into it and then give it away again 10 or 15 seconds later is very tough."
Dobbie said: "I saw the ball go high. I thought he would just head it back to the goalie but he's taken a touch and I've tried to press him. Luckily I've got the break of the ball and put it into the net.
"Before they scored we dominated the game and if it had only been a draw we would have been really disappointed."
Dundee boss James McPake said: "Jordon Forster knows he made a mistake. He usually headers the ball 40-yards up the pitch but he's made an error this time and has put his hands up.
"It's a costly one but there were lots of errors out there to be honest. The performance was an error.
"It's not been good enough recently. We need to find a way to get results back at this football club.
"When things go against us we seem to go into our shell a bit.
"But everyone is working hard to turn things around – myself, Jimmy Nicholl and Gordon Strachan, who has plenty of experience as well."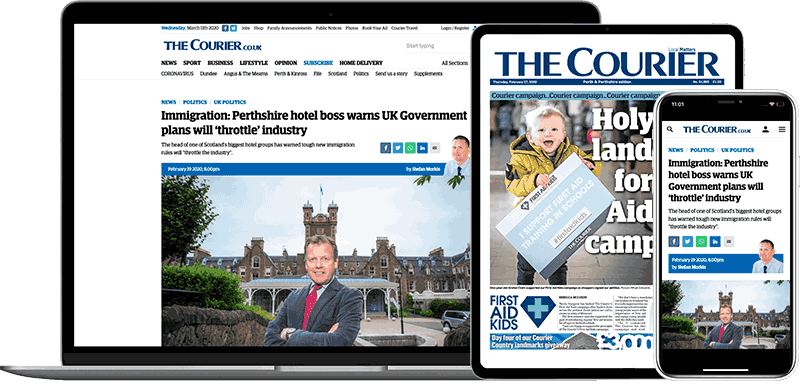 Help support quality local journalism … become a digital subscriber to The Courier
For as little as £5.99 a month you can access all of our content, including Premium articles.
Subscribe