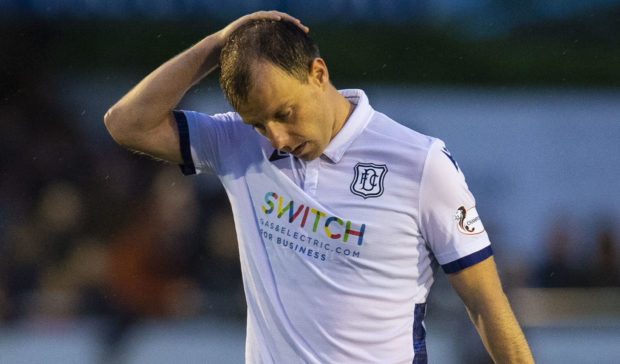 Dundee midfielder Paul McGowan has admitted that the Championship has proved to be a much tougher league than he thought it would be.
McGowan has been surprised by the standard of opposition in the division, having dropped out of the Premiership with the Dark Blues.
Of course, he doesn't have far to look for a perfect example of a side capable of making life hard for more fancied clubs.
Arbroath, who host the Dens men at Gayfield this afternoon, are that very team.
The fixture is fraught with danger for Dundee, who have fallen into fifth post in the table and will be leapfrogged by the Lichties should the result go against them.
It wasn't meant to be this way for James McPake's men.
They were supposed to be up there challenging Dundee United but three consecutive defeats – including last weekend's stoppage-time brainstorm against Queen of the South – has left them looking vulnerable to an Arbroath onslaught.
McGowan said: "What I have found out about this league is that it has been tougher than I thought it was going to be.
"It thought we would steamrolling teams week in, week out.
"You look at our squad – I am actually bored of saying it – but it has been about who wants it more.  That's what I have found in this league.
"It has come back to bite us a few times and it will get harder as the season goes on.
"You look at Arbroath, who have had some great results this season so far and are sitting sixth in the table.
"We can't take them lightly and this is going to be a sleeves-up job. They won't just let us play.
"I have never been part-time so I don't know how they approach things but they have more than acquitted themselves well in this division.
"They have done better than a lot of people thought they would.
"Indeed, they are better than I thought they would be. They have surprised me.
"That's not being disrespectful because you just look at teams at the start of the season and see that they have a part-time budget.
"Their boys are all grafting their hearts out during the week and then have to train on a Tuesday or whatever.
"So what they are doing down there just now is incredible."
The legs have gone from under the Dens men thanks to losses to United, Inverness and Queen of the South.
McGowan knows they must turn it around, saying: "The gaffer got manager of the month and everything was on a high.
"We went into the United game and then, bump, it just went downhill from there.
"These have been a tough few weeks and we have not been great.
"We need to get back to basics, I think.
"When we went into the United game we were just six points behind and, had we won the derby, would have been just three behind them.
"Now we sit here and we are 12 behind them and they have a game in hand.
"Listen, it is what it is but we need to pick ourselves up.
"It is only going to get harder for us.
"I don't know how many times – over all the years I have been here – that I have sat and repeated the same stuff.
"But we never seem to make it easy for ourselves at Dundee."
They certainly don't and quite a few fans will need to be won over today after boos rang out at Dens last weekend during and after the 2-1 setback.
McGowan isn't one for criticising supporters but is obviously hoping for a positive response from the terracings today.
He said: "People said, when I came here, that at Dundee the fans can turn quite quickly.
"When I played a stray pass or made a mistake I just let it go over my head but it does affect some players.
"It is easy to sit there and say to others: 'I think you let that affect you.' However, all pros are different.
"We should be going and playing the way we do in training, where if you make a mistake you forget it.
"You have to keep trying to make the pass and it should not be safety first.
"We are not always going to get it right – we are human beings after all – so there will be mistakes in games.
"The bottom line is, though, that we should be higher up the league than what we are."
McGowan has been through a traumatic time in his personal life, with his new baby boy Sonny ill in hospital.
The harrowing situation meant he missed the loss to Queen of the South but the good news is that his child appears to be improving.
McGowan explained: "Since he has been born he has been on a ventilator.
"He has just struggled with his breathing and hadn't been keeping any of his milk down.
"A few weeks ago, I was training and the manager got a phone call and I had to rush back to the hospital because the baby took a turn.
"He came through that and then, on the way home the other day, my girlfriend called to say that they had to take him to the sick kids' hospital in Glasgow.
"He was in pain and is getting a heart scan next week and we will see how it goes from there.
"He seems a bit better now but it is scary.
"It puts you into a position where football just comes second.
"I have had more days off since he has been born than I have in my whole career.
"He is doing better and it is a day at a time."