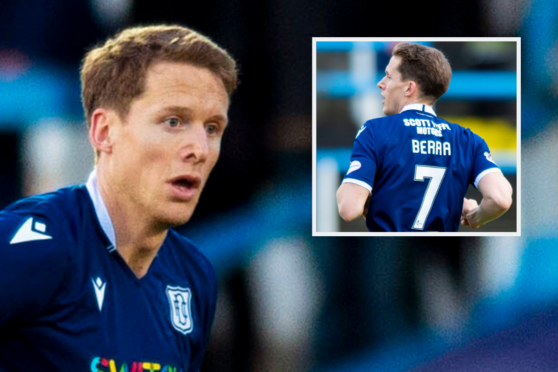 Christophe Berra's choice of seven for his new Dundee shirt raised a few eyebrows on deadline day.
But it was a case of hoping for a bit of good fortune in the next few months at Dens Park when he made his pick, rather than trying to re-invent himself at this late stage of his career.
Mind you, the former Scotland internationalist's pass for Kane Hemmings' goal in Saturday's 1-1 draw against Morton was one a more traditional number seven would have been proud of.
"Kane made a really good run for my pass and it was a good finish as well," said the 35-year-old on-loan Hearts man.
"I wasn't thinking about 'number seven, Ronaldo', I was more thinking 'lucky number seven!'
"I wasn't thinking about positions on the pitch.
"There were a few numbers available and it didn't cross my mind that folk would be thinking of me trying to be a winger…..maybe in five-a-sides!"
People have been too quick to write him off in recent weeks, Berra believes.
He may not be the centre-back Daniel Stendel was looking for at Tynecastle but that doesn't mean there has been a rapid deterioration in the standard of his play.
And he intends to prove that in the dark blue of Dundee before contemplating further seasons at a high level.
"I feel like I've got a lot to give," said Berra.
"People write you off because of your age but that's nothing if you're still fit and producing the goods.
"People are saying: 'He's slow.' I've never been slow and I'm still one of the fastest in the team. It probably doesn't look that way because I'm six foot three.
"I look after myself and you see players these days carrying on until they're 40. I don't know if that will be me. I'm not sure if mentally I'll want to do it. But it was good to get back out there.
"I definitely feel I've got a few years left in me."
Berra added: "What's happened at Hearts has happened. I've still got another year on my contract.
"I'm helping with the under-14s in the academy there as well.
"I don't really want to talk about what happened anymore (regarding Stendel's decision to freeze him out). It's done. It's had its moment in the press – probably blown out of proportion a bit.
"I'm a Hearts fan and I want Hearts to do well. I've got a lot of friends there – players and staff – and I want them to have a strong second half of the season.
"I'll be back there at the end of the season and see them when I'm working with the 14s."
Berra played against Morton a few hours after being introduced to his new team-mates. It was a good start at Cappielow and there will be better to come.
"It was my first game in about six weeks but I've been training hard," he said. "Timing and things like that will come back with playing.
"I had other options but Dundee had been in contact from the start so a move here was always in my mind.
"I could have gone down to England but this felt the right move for me to push on."
Dundee were dominant up until they conceded an equaliser midway through the first half when ex-Dee Jim McAlister followed in a deflected Nicky Cadden free-kick that Conor Hazard couldn't divert to safety.
They never really got that sort of control back again, despite the fact that Kyle Jacobs was red-carded before the hour mark.
Declan McDaid hit the post but there was no sustained pressure on Danny Rogers and his goal.
Berra got an early lesson about how competitive Championship football will be.
"I don't think I've ever played here (Cappielow) before, apart from training with Scotland," he said. "It felt like a difficult place to come.
"They were well organised, physical and were good at what they do. Teams will find it hard here.
"Their goal was a bit fortunate but it was a tough game. Maybe a point here isn't the worst result.
"I've played in a lot of games against 10 men and it's probably more difficult than against 11 because they sit in and they're happy with a point. We had them pinned back but it can be a struggle to score.
"There have been a few games without a win for the team but we'll be looking to get one next week. There are quality players at the club.
"The league is so tight. We're still in touch with second."