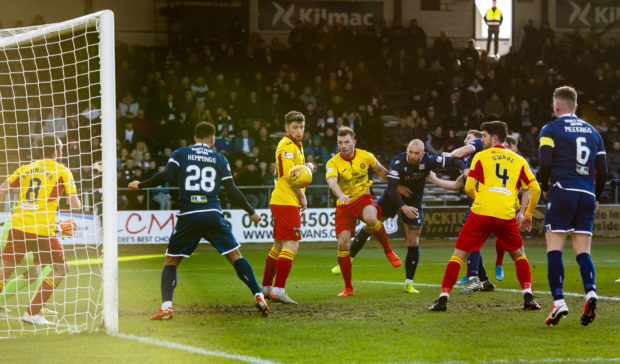 Dundee striker Kane Hemmings has issued a public thank you to manager James McPake for helping him through a difficult time in his private life.
Hemmings revealed that the last few weeks outside of football have been challenging for him.
The Englishman put any troubles to one side when scoring twice for the Dark Blues in the comfortable 2-0 home win over Partick Thistle on Saturday.
After firing the Dens men back up into the play-off spots, Hemmings revealed that he received significant support from McPake and his staff as he dealt with a private matter.
He said: "I want to thank the manager for the last few weeks away from football.
"It has been a bit of a tough time for me so I want to thank him and all his coaching staff for rallying around me because it could easily have gone another way.
"I want to say thanks publicly and hopefully I can keep on scoring goals.
"Listen, it has been a tough couple of weeks and he has been brilliant with me so I can't thank him enough."
McPake stated after the win over Thistle that he believed Hemmings is a better player now than he was during his successful first spell at the club.
The player laughed then responded: "The stats don't say that but I would probably agree!"
Hemmings was also enjoying some banter with teammate Jordon Forster, who was credited with the first goal by the stadium announcer even though it was the striker who swept the defender's header over the line.
"It was definitely two goals for me," he said
"Maybe the person who announced the goal didn't have his glasses on!
"Jordon wants it but he's not getting it."
Forster then appeared out of the blue to shout that the goal was his and a smiling Hemmings told him to get out of the media room.
Hemmings then turned serious again to lay out what the Dark Blues have to do now.
He added: "We have said it before but what we need to do is go on a winning run.
"It's no good doing what we usually do and win three games then lose four.
"It's no good to get a win here and a draw here and then lose.
"We really have to go at it because we don't want to be in that fourth spot or even third because it gives you so many games in the play-offs."
McPake was more than happy with Hemmings' contribution, saying: "Kane has been brilliant for us of late.
"I have had no problem with him all season but we just need to give him the right sort of service.
"If you supply him with chances he will score.
"He has shown that here and we knew that all along.
"I have known Kano as a player and he is better now than he was before.
"That is the biggest compliment I can give him."
The striker's double gave much-improved Dundee their first win of the year.
They last collected three points back on December 21, coincidentally against Partick at Firhill.
This success was more even comfortable than the scoreline suggested and fired McPake's team back up into fourth spot in the Championship.
The hope for the Dark Blues now must be that they can put a winning run together that will anchor them in a play-off position.
The opener arrived after a long throw-in by Josh Meekings was nodded out for a corner.
Declan McDaid took the setpiece from the left and Forster soared into the air to head what looked destined to be his goal. However, typical striker that he is, Hemmings stuck out a boot to poke it over the line and claim it.
If there was some uncertainty about the first goal then it was definitely Hemmings – 100% – who scored the second on 34 minutes.
Great play by Paul McGowan saw him use his strength to win possession then he threaded a terrific ball through for Hemmings to chase.
The striker still had work to do but he stayed cool and clipped a nice shot into the bottom left-hand corner of the Jags' net.
Then came the serious injury for Dundee's on-loan St Johnstone midfielder Ross Callachan, who suffered a fractured fibula following a coming together with Partick's Stuart Bannigan.
Despite that massive blow, the Dens men saw the game out with little difficulty and now face a free weekend before heading down to Dumfries on the 22nd to play Queen of the South.
As for the Jags, they look like they are in serious trouble.
They were completely punchless up front and their fans let the players know exactly what they thought of them, with boos ringing out as they made their way to the dressing room at full-time.
You also got the impression that manager Ian McCall left them all without a name behind closed doors.
McCall said: "We were really, really poor.
"I take absolute responsibility. I picked the wrong team.
"Dundee deserved to win but there wasn't a lot of football played in the game.
"Both goals were giveaways.
"It was a poor, poor day for us and the boos were fully justified.
"We are right in the relegation fight now, if we weren't before.
"The target for our club, which is ridiculous, is that we have to try to finish eighth."