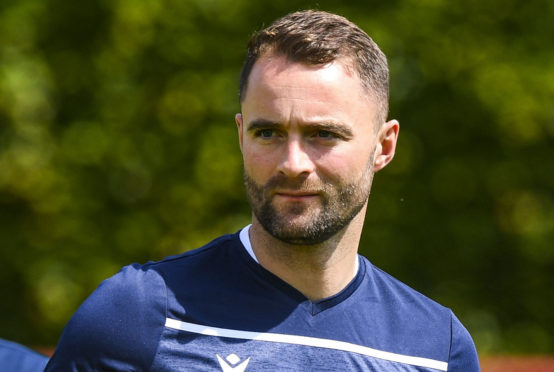 Dundee boss James McPake reckons Arbroath are secretly targeting a place in the promotion play-offs.
The Red Lichties have rocked the Championship this season, and a win at Dens Park tomorrow would see them overtake the Dark Blues in the race for a top four finish.
It has been a thrilling ride for the Angus side, yet their wily gaffer, Dick Campbell, insists his ambition remains limited to avoiding relegation.
That's a message his Dundee dugout counterpart is only prepared to swallow along with a hefty pinch of salt.
"Dick is 100% at the kidology," said McPake.
"If they'd been offered eighth at the start of the season I'm sure they'd have taken it.
"But now they're that far into the season…
"I keep going back to the fact they beat United at Tannadice and they should have beat United at Gayfield – they were very unlucky that day.
"Not many teams can say that this season – that they should have beaten United twice.
"They're a team full of winners who have come up and stuck together, with a real team spirit, a real good manager and two good coaches in Ian Campbell and Big Rab Douglas.
"No matter what Dick's saying, they'll want to be in the play-offs.
"The January signings weren't those of a team who are struggling to stay up.
"They'll be saying: 'Let's get in the play-offs and scare a few teams,' because, when they're in it, they'll cause teams problems over two legs."
As one of only two part-time teams in the Championship, pre-season expectations were low for Arbroath – at least outside of Angus.
The way they have adapted to life in the second tier of Scottish football has won them admirers throughout the game.
McPake counts himself amongst them – to the extent he sees them as level above a number of full-time teams.
"Playing them is a step up in terms of their consistent form throughout the season," the Dundee boss said.
"In the two games we've played them they've been one of the better teams in the league, in my opinion.
"It sounds daft when Queen of the South have beaten us, Partick have beaten us at Dens and we've yet to lose to Arbroath – but they're a real threat.
"They've got better too and I like the way they work.
"I like the job Dick, Ian and Rab have done there.
"As much as they'll say they're not, they are looking to make the play-offs. They've come this far. They'll be saying: 'We can have a go here and upset a few teams'.
"I've known that since we played them at Dens. We were 1-0 up and they hit the post. That would have changed the game. Instead we ended up winning 2-0.
"But for me they're one of the better teams in the league."
In Craig Wighton, Arbroath certainly have one of the division's better players.
Dundee fans know that as well as anyone.
Fortunately, the Dark Blues have men in the heart of defence – former Wighton teammates Josh Meekings and Christophe Berra – who are more than familiar with his approach.
"We have players who know him but the other boys will also know because we'll work all week on Arbroath's threats," said McPake.
"He's a good signing for them, it's not secret we tried to bring him here and that says it all about what I think of him.
"He's a fantastic player but we have the players who can hurt Arbroath and, hopefully, keep Craig Wighton quiet as well. There will be no surprises for us.
"The big thing, as much as I've praised the team defensively, at the other end we are a real threat and I think we could have had another three or four last week if we'd been a bit more clinical.
"That's the only disappointment from Palmerston, that we didn't kill the game off because it was never comfortable for me until the final whistle.
"But all in all, we are very happy with the last three performances."