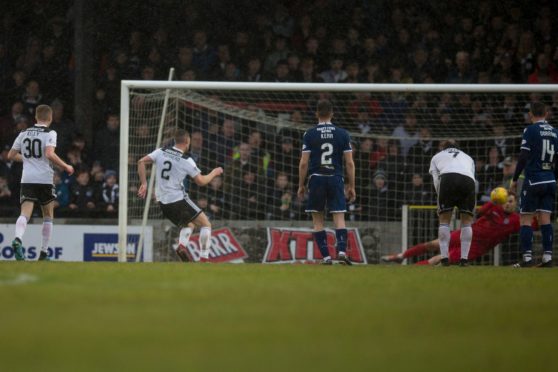 Conor Hazard claimed he got lucky with his superb penalty save which ensured Dundee a fourth successive clean sheet and extended their unbeaten run to five games.
Saturday's goalless draw against Ayr United at rain and windswept Somerset Park means it's as you were with still two points separating third and fourth in the Championship.
However, all that could change tomorrow night when the teams meet again in the sequel at Dens Park.
Hazard and his Ayr counterpart Ross Doohan came through the Celtic youth ranks together and neither was giving an inch in the testing conditions.
The Dundee man refused to be beaten for the fourth game in a row although he played a major part in conceding the spot-kick. He appeared to call for Cammy Kerr to leave a cross field ball into the box and then hesitated.
In the confusion that followed, Kerr tripped Michael Moffat who was preparing to take advantage. Ref Steven McLean pointed to the spot but Hazard redeemed himself, diving to his left to make a fine stop from Aaron Muirhead's penalty.
Dundee's Jordan McGhee now wants to get grip on play-off spot after surgery success
Hazard tried to play down his stunning spot-kick save which was the pivotal moment of a clash watched by a band of 312 travelling fans.
He claimed: "It was all about a bit of luck. I just picked a side and luckily it was the right side.
"From that performance I don't think we were good enough and all the boys recognised that. It was a very hard fought game, the conditions weren't great to be getting the ball down and playing.
"We're delighted to come away with a point and look forward to rectifying that on Tuesday.
"Ross and I get on well. He's a really good goalie, we've been at Celtic since we were both 16. It's good to come up against him and we'll see what happens on Tuesday.
"There are still many games to go. Our aim obviously is to get into that play-off place and get promoted. We are just taking each game at a time and we're looking forward to getting that opportunity."
Jordan McGhee curled in a deflected shot which clipped the post in Dundee's best chance of an even contest which was hampered by the conditions.
Moffat thought he has driven Ayr ahead with his 98th goal as an Honest Man but the stand-side assistant ref's raised flag ruined his celebrations.
The penalty came on the hour when Kerr, who had earlier been booked, brought down Moffat just inside the box but escaped further punishment although he was quickly replaced by Christie Elliot.
Boss James McPake vowed Dundee will be better tomorrow night and insisted he wasn't content with just a point.
He said: "It was a difficult day for football with not much played. Given the fact we conceded a penalty, I thought we showed great character and it was a great save by Conor.
JIM SPENCE: Billy Gilmour must be in Scotland squad, nobody will catch Dundee United and why Dundee fans are right to be concerned about losses
"We showed a different quality today to what we showed on Tuesday night. I'm disappointed as we are never happy with a point.
"It was completely different from Tuesday when we weren't happy with a point but we created loads of chances. Today was a different game and we showed great character and a real desire not to concede and we did that.
"But going forward we weren't as good, a bit of that down to conditions and a bit down to the way the game was played.
"We'll be better on Tuesday. We'll hope for better conditions but that's not being critical of the conditions, there was a game played on Tuesday night and a lot of rain. There was a wind as well so it was difficult for both teams.
"That was evident in the way the game was played, there wasn't much of the quality from either team which they have showed this season.
"It was much of a muchness and there wasn't much football played but we showed real desire and character to get a fourth clean sheet in a row."
Ayr player-boss Mark Kerr claimed his team did enough to win but revealed he is set to shuffle his pack tomorrow night.
He said: "It will be a tough double-header. It's like a game of chess, we'll tweak things and they'll tweak things."