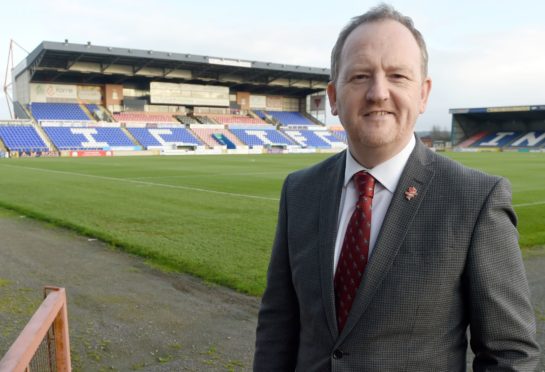 Dundee stunned everyone with a stoppage-time strike but whether it was a winner or an own goal, only time will tell.
The Dark Blues find themselves with Scottish football's spotlight shining right on them after their expected vote against ending the season below the Premiership was withheld in dramatic fashion on Friday.
The resolution was supported in the other three divisions and now we await the Championship, with the backing of the Dens men required to take the yes votes up to the required eight out of 10.
Managing director John Nelms finds himself in either a powerful or unenviable position, depending on your view. Simultaneously, he is standing alone and the centre of attention.
The whole farce was has been played out very publicly, with former Dundee chief executive Scot Gardiner, fighting the corner of his current club Inverness Caley Thistle, at the heart of the matter.
Gardiner walked us all through the drama, played out in a WhatsApp group. The leading cast members were ICT, Dundee and Partick Thistle, all of whom were expected to reject the resolution.
In an interview aired on the BBC on Saturday, he claimed he and his fellow club representatives had received WhatsApp messages from Dundee secretary Eric Drysdale, which stipulated the Dens club had submitted their no vote.
Gardiner said: "I have a minute-by-minute factual account of what happened yesterday (Friday).
"I am happy to say this is what happened when and this is who voted when. I have it all in front of me.
"We (the Championship clubs) have our own WhatsApp groups and we have all been speaking about our different positions and discussing all our different positions since Wednesday. Anyone was entitled to vote any way they like and we respect everyone's vote.
"Our position was, as far as Inverness Caledonian Thistle was concerned, there was no way we could countenance a vote to cause financial harm to another Scottish football club, another fellow member of our league, in the middle of this pandemic. "We could not stomach the thought of that. We were clear in every conversation.
"Moving to the afternoon of yesterday, we had a situation where the three clubs were pretty solid, Partick Thistle, ourselves and Dundee. We had all spoken openly and said we could not vote for this resolution.
"Thistle were the first club to vote. Thistle voted. Gerry Britton (the Jags' chief executive) sent his voting slip to all of us, not just the three clubs – there were other clubs on this WhatsApp group. Partick sent their voting slip at 14.52.
"At 16.24 we received Dundee's voting slip, signed and dated. We all received the actual photograph of the voting slip, signed, dated, by John (Nelms) at 16.24. At 16.39 I signed and dated our voting slip and I published that to the group and I submitted our vote.
"At 16.24 when we were sent Dundee's no voting slip we were also sent Dundee's statement that they published on their website at 5.03. At 16.52 we then got a message from Dundee's secretary (Drysdale) and the final line was 'DFC vote submitted'.
"That's the facts of the matter as far as we are all concerned. Thereafter, we went through the rabbit hole."
Gardiner then revealed how it began to dawn on them that the arithmetic didn't add up.
He added: "We received various text messages from various clubs saying: 'Apparently Dundee's vote hasn't been received yet.'
"We were talking to the club secretary, who was the one who sent us the message which said '4.52 DFC vote submitted'. We were getting text messages after five o'clock saying that Dundee hadn't voted. I was saying to people: 'Obviously there must be a glitch in communication because I have the vote in front of me.'
"I was looking at John's signature and the date and the text saying 'the DFC vote has been submitted by the club secretary.' I was quite relaxed because I thought it was just a rumour or something like that because it was submitted.
"We then received a message at 6.07pm from the Dundee secretary saying that their vote wasn't received. But he gave us his solemn word that it was sent. At that stage, it was quite alarming as you can imagine.
"I replied with a question at 6.12pm. Jacqui (Partick director Low) said: 'Well, the 5pm deadline isn't statutory, it's just advisory you can just resend it and it still counts as the deadline isn't for 28 days'. At that stage, we were told he (Drysdale) had been instructed to hold off from resubmitting their vote. That was 6.21pm."
When asked on the programme who had instructed Drysdale to hold off voting, Gardiner replied: "John (Nelms)."
He continued: "I replied to Eric's message at 6.23 saying: 'If they contacted you to say they hadn't received your vote, wouldn't you just have resent it? I would have. I am extremely confused.'
"He replied saying that no one contacted him, he just assumed that the vote had been cast and he was awaiting an acknowledgement. He then heard the SPFL's statement saying that only two clubs had voted against, that it was only 7-2 and he was cursing the clubs that hadn't voted.
"I have it all here. I have the three voting slips. We have the message from the Dundee secretary – it was sent at that time, at 4.52. After that? Who knows?"
That is Gardiner's version of events and Drysdale was contacted by Courier Sport yesterday and offered the right to reply. All communications, though, are to be made through the club's official channels.
Then, last night, SPFL chairman Murdoch MacLennan stated that the league received "unequivocal instruction" from Dundee not to consider their vote as having been submitted.
The Dark Blues had a change of heart and now they will either come out of this as heroes or zeroes.
Raith Rovers chairman Bill Clark claims Dundee risk become pariahs if they vote against SPFL proposal