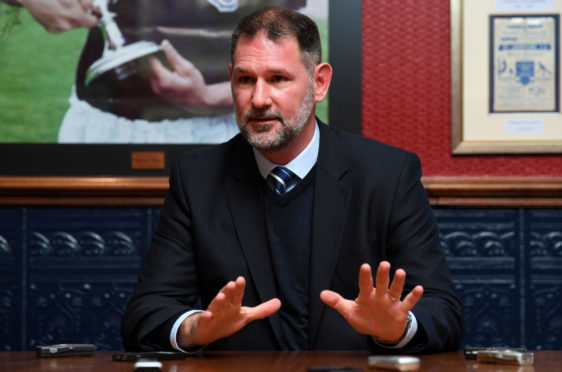 What a difference a day makes.
On Wednesday morning, in the pages of this newspaper, I described John Nelms as "Dundee's quiet American", and called on him to find his voice.
Twenty-four frantic hours, one decisive vote to end the season in Scotland's lower leagues and 1000 words of prime, insanely capitalised Club Statement later, the Dark Blues' newly loquacious managing director had talked his way into Scottish football folklore.
Nelms' role in the process that brought the 2019/20 campaign to a halt in the Championship, League One and League Two will go down in history – there's no doubt about it.
He is the Dundee chief who handed a title to Dundee United for a start.
But the wider implications of his intervention will make him much, much more than that besides, with the nature of his freshly prominent role in our game yet to be defined.
Wednesday brought a flurry of front-and-centre action from a man whom, under normal circumstances, chooses to operate in the background.
But what an effective foray into the spotlight it was.
The concessions Nelms secured from the SPFL on Wednesday evening in return for the vote that tipped their teetering season-ending resolution over the finish line were significant.
An immediate start to work on a league reconstruction plan for next season was the headline achievement and, at this very moment, Hearts chair Ann Budge and her Hamilton Academical counterpart Les Gray are beavering away on it.
They have been charged by the League with ensuring it doesn't get stuffed – and Nelms is entitled to see that as a triumph.
But while the wielding of such results can be used to distract from the need to discuss the journey towards them, they only do so until the blinding flash of victory fades away.
In truth, there are still questions for the Dens Park decision-maker to answer.
Fans group the Dundee FC Supporters' Association put the main one to him on Thursday in requesting a fuller explanation of the circumstances surrounding the club's switch from a "no" to a "yes" vote.
In response, they got something that amounted to little more than a cut and paste job of the Dark Blues' statement from the previous day.
There was a new insistence that the "best deal possible" had been achieved, but precious little in the way of detail.
That won't be enough for some people.
Yet, for many others, what has already happened will be less important than what happens next when it comes to deciding how Nelms is viewed in future.
If the Dark Blues somehow end up in a revamped Premiership next season, many punters will put their Texan miracle man on the loftiest of pedestals, even if they never get answers about the negotiations that got them there.
That's football.
If Dundee end up as top dogs in the Championship and win promotion at a canter next season, their fans will take that too.
And if Partick Thistle and Stranraer can be saved from relegation at the same time, along with Hearts and Brechin City, Nelms could even end up becoming a pretty popular figure beyond the city of Dundee.
Anonymity has value.
It allows those who wear it as a cloak to work quietly, as they please, without being subjected to scrutiny.
For John Nelms, it has worked well for almost seven years.
But now the whole of Scottish football is watching – and those days are over.
EXCLUSIVE: Dundee chief John Nelms addresses 'yes' vote after Dark Blues fan group demands answers on club's U-turn